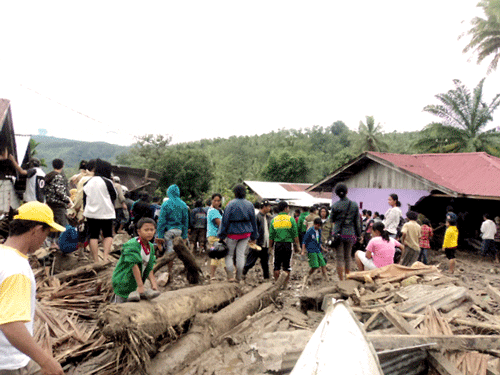 Celebration Followed by Tragedy in Indonesia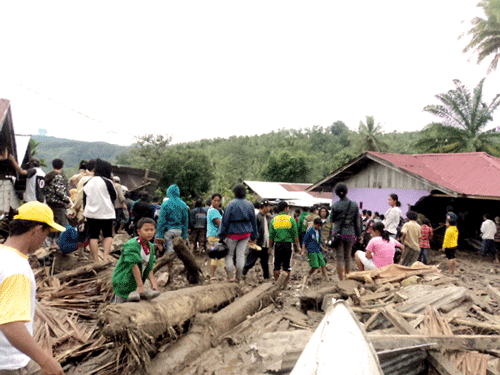 A time of great celebration for The Salvation Army in Indonesia has been closely followed by flooding and landslides which have led to significant damage and loss of life.
Celebrations of the 117th anniversary of Salvation Army work in Indonesia included the visit by territorial leaders Commissioners Basuki and Marie Kartodarsono to the Kulawi Division in Central Sulawesi to enrol 430 junior soldiers and 694 senior soldiers during one meeting held in Lawua Corps. This increase in numbers goes some way toward the territory's faith goal of having 40,000 senior soldiers by 2014.
Sadly, less than a week later the area was hit by flash flooding and landslides. More than 100 homes were destroyed and at least six people are known to have been killed, including the mother of a training college officer and a relative of another officer. Four officers had their homes destroyed and there was also damage to Salvation Army property.
The Army is growing rapidly in the affected area, where already 85 per cent of villagers are Salvationists.
Emergency services teams from four Salvation Army divisions responded immediately to the disaster and are currently assessing the need for short and long-term support. Government representatives and non-governmental organisations are also taking part in the relief operation.
The prayers of Salvationists and friends throughout the world are greatly appreciated. Territorial Commander Commissioner Basuki Kartodarsono spent most of this week in Kulawi and Chief Secretary Colonel Mike Parker – together with staff members from territorial headquarters – will be visiting next week to give support and encouragement.
Report by Colonel Mike Parker
Chief Secretary,Indonesia