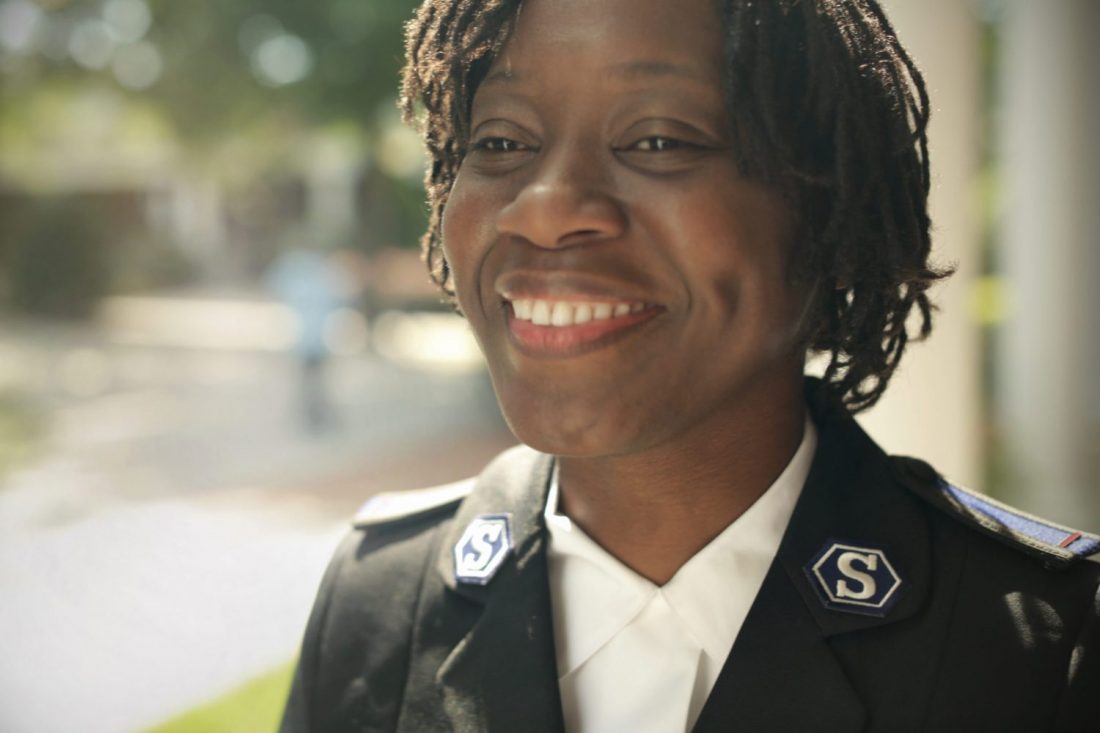 Celebrating Salvation Army voices this Black History Month
Every year in America, Black History Month celebrates the achievements of African Americans and recognizes their role in U.S. history. 
From Dr. Martin Luther King Jr., to Harriet Tubman, Shirley Chisholm, Jesse Owens and Ruby Bridges, each fought hard for justice while enduring a life that was not equal—and left an indelible mark on the history of our country. 
The Salvation Army also celebrates these heroes, the plight of a people made in God's image, and the great things they've contributed to our nation. We likewise honor Salvation Army members and officers—pastors—who have made a mark on the ministry since its very earliest days.
People including: Mabel Vivian Broome, the first African American cadet enrolled for officer training at The Salvation Army's training school in Chicago in 1915. James Roberts, who led a brigade of Black officers to open Salvation Army work in the segregated South after having served 20 years in an interracial New England worship community. Commissioner Israel L. Gaither, who served as the first African American National Commander of The Salvation Army in the United States.
That trust in God and perseverance of opportunities for reconciliation and healing continues today. This Black History Month, meet a few of those engaged now in the mission of The Salvation Army in the Western Territory with a note about their families, favorite traditions and Scripture: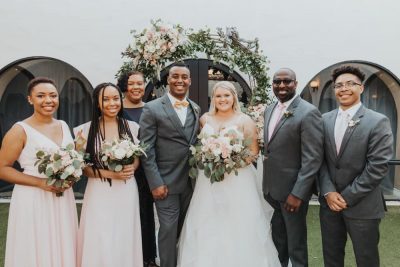 Majors Lynn and Osei Stewart (General Secretaries, Metro Los Angeles), with their children Joshua, Naomi, Jeremiah and Noelle
"Black History has been important to our family because it is our history. It gives our family a glimpse of what our ancestors contributed to America and a greater understanding of their sacrifices and struggles they endured so that we may live as free men and women. We must always continue to push forward in that great and rich history to make a lasting legacy that will touch lives and create a better future for our people and all Americans."
Favorite tradition: "Our family, which is a blend of multiple cultures and ethnicities—Hawaiian, African American and Guyanese—have traditional Guyanese cuisine. It's always a favorite and we eat this meal for breakfast—complete with fresh baked bread, garlic lamb, pepper pot, sorrel, mauby, and ginger beer. We are up early to open presents, but we also share in the gift of Jesus and the story of his birth.  It is always a warm time where we gather and feel the closeness of family and experience the traditions and customs of the Guyanese people at Christmastime."
Favorite Scripture: Do nothing out of selfish ambition or vain conceit. Rather, in humility value others above yourselves, not looking to your own interests but each of you to the interests of the others (Phil. 2:3-4).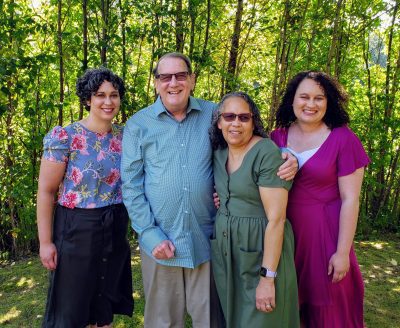 Lt. Amelia Jones ( Social Services Director, Anchorage) and Lt. Melissa Jones (Assistant to the Los Angeles Metro Coordinators) with their parents, retired officers Majors Brian and Gwendolyn Jones 
"Although we know of and have experienced periods of trial and struggle, our ancestors and family members are testaments of the power, strength and perseverance of the Black family. Knowing our history has imbued in us a strong sense of self-worth, dignity, and pride in who we are as a people. Our ancestors were hard pressed on every side, crushed in every way, yet they still persevered and had hope for better days ahead. They have helped us counteract the negative stereotypes the world would like us to believe, and to press forward to greater things. Every day we strive to carry that legacy with us by focusing upon the strength, wisdom and strong faith that have been passed down to us. This Scripture reinforces the fact that we cannot accomplish anything on our own, but instead we must submit all things to God with thanksgiving, remembering the truths and promises God has given us. This is what our ancestors did, and what we will strive to do each day."  
Favorite Scripture: Do not be anxious about anything, but in every situation, by prayer and petition, with thanksgiving, present your requests to God. And the peace of God, which transcends all understanding, will guard your hearts and your minds in Christ Jesus. Finally, brothers and sisters, whatever is true, whatever is noble, whatever is right, whatever is pure, whatever is lovely, whatever is admirable—if anything is excellent or praiseworthy—think about such things (Phil. 4:6-8).
Read "My Imago Dei Matters," a first-person article by Lt. Melissa Jones and download her Scripture study on Imago Dei.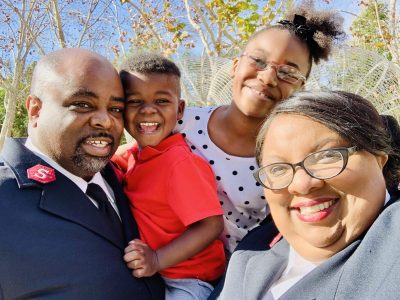 Captains Purnell and Connie Hall (Corps Officers, Bell Lighthouse Corps) with their children Lillie and Josiah
"Black history is our history and therefore important to our family because it reminds us of the struggles, pain, faith and fortitude our ancestors have had to endure. Their experiences pushed us to where we are today while fueling us to strive to create a better tomorrow for the generations to come."
Favorite tradition: Spending time camping and fishing. "We both come from families whose backgrounds were living off the land, so the outdoors is where we thrive. When we are in God's creation, we not only connect to him but also to our heritage and legacies."
Favorite Scripture: Love is patient, love is kind. It does not envy, it does not boast, it is not proud. It does not dishonor others, it is not self-seeking, it is not easily angered, it keeps no record of wrongs. Love does not delight in evil but rejoices with the truth. It always protects, always trusts, always hopes, always perseveres (1 Cor. 13:4-7).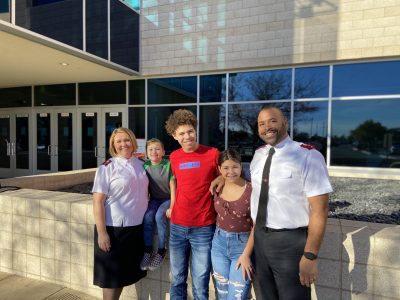 Captains Dustin and Caroline Rowe (Corps Officers, Phoenix Kroc Center) with their children Noah, Lillie and Max  
"Black history is important to our family because it is American history. We are able to see our ancestors forging ahead and enduring adversity for not just the individual, but for all people treated unjustly. It is evidence of how far we've come and a reminder of the need to continue to seek justice where injustice is found." 
Favorite tradition: Christmas Eve Lobster. "Once a year, we lay down the newspaper, grab the butter, and enjoy some of northern Atlantic's best. It's even more special because it calls a close to the Christmas kettle season, making the lobster all the sweeter."
Favorite Scripture: Trust in the Lord with all your heart and lean not on your own understanding; in all your ways submit to him, and he will make your paths straight (Prov. 3:5-6). 
See more about the Rowes and how they've partnered for civil discourse from the Phoenix Kroc Center.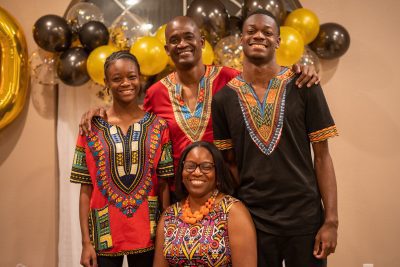 Mortimer Jones (Executive Director, Siemon Family Youth Center, and Salvation Army soldier) with his wife Lizette and their children Danielle and Nick
"With everything that is happening in our world, Black history has become more important to me and my family. We have realized that there are many in our communities who are not familiar with the history of our forefathers, how those experiences have contributed to who we are as a people today. Because of this, we believe that it is important to share not only our struggles but also our accomplishments with the rest of the world. Marcus Garvey once said, 'A people without the knowledge of their past history, origin and culture is like a tree without roots.'"
Favorite tradition: "Besides sitting to have dinner as a family on a daily basis, our family enjoys spending quality time together in the summer visiting with extended family."
Favorite Scripture: Oh give thanks to the Lord, for He is good; For His lovingkindness is everlasting (Ps. 107:1).
Join with us in a Scripture study by Lt. Melissa Jones as we consider Imago Dei—"Image of God"—a phrase that represents the divine rights we are all equally endowed with as human beings. 
---
Do Good:
Did you know The Salvation Army served more than 23 million Americans last year fighting hunger, homelessness, substance abuse and more—all in a fight for good? Where can you help?

Take our quiz

to find your cause and learn how you can join in today. 

Read "Soldiers of Uncommon Valor: The History of Salvationists of African Descent in the United States" (Salvation Army, 2007) by Warren L. Maye.

Give today to assist the Fight for Good in your community

with The Salvation Army

.