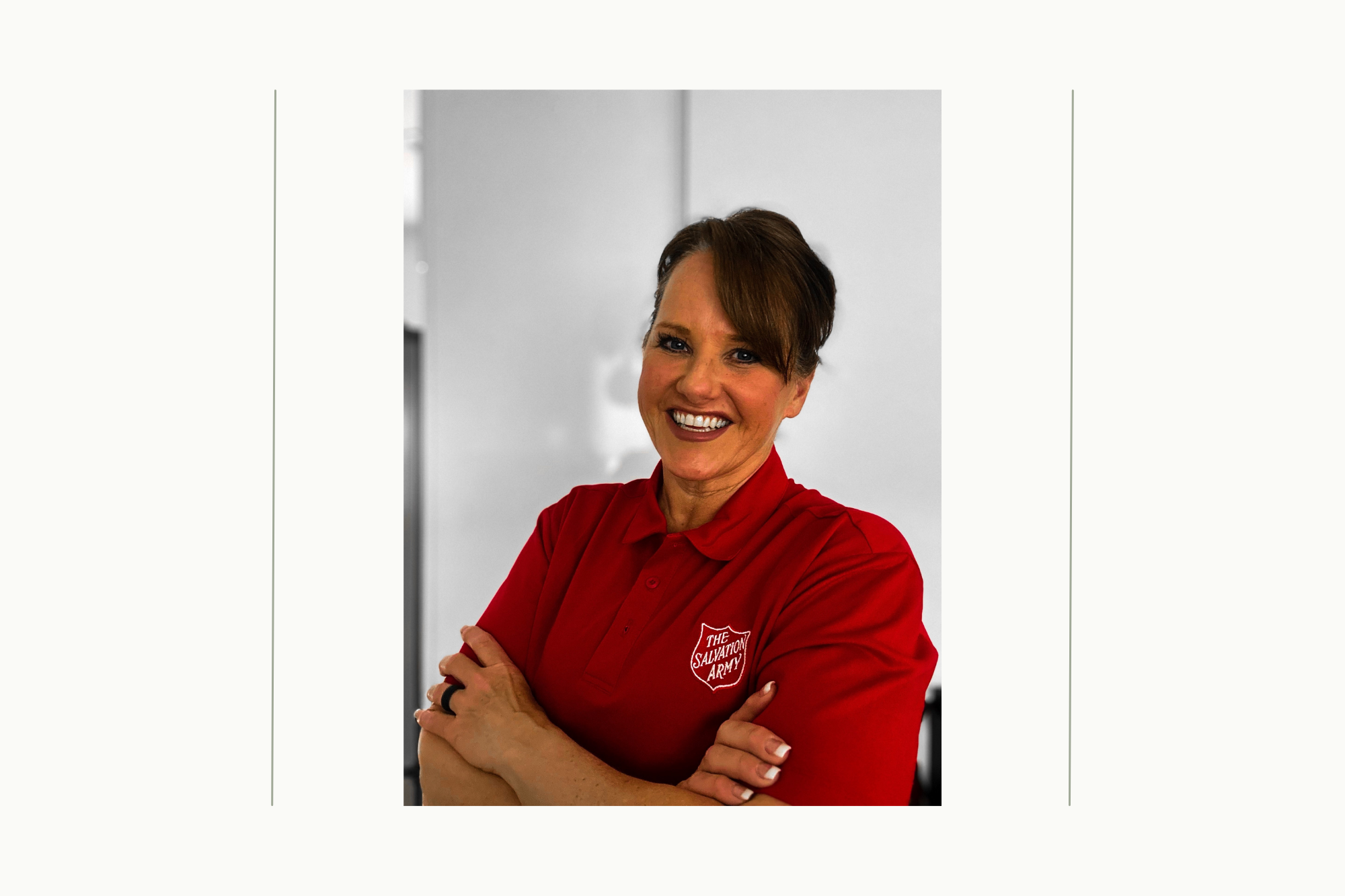 Career change brings once police chief to The Salvation Army
Southern California Salvation Army has a new Deputy Director of Preparedness
With a desire to do good and a background in community engagement, Sandra Severns left the police force and accepted a position as Deputy Director of Preparedness for The Salvation Army in Southern California in June of 2022.
"I was looking for a job where I could really help those most in need," said Severns. "And what that looks like to me is working for a nonprofit and being able to connect closely with people."
Before this role, Severns served on the police force for 34 years in four California counties, concluding her law enforcement career as Police Chief in three California cities from 2008-2020.
"I knew that I was ready for a career change and wanted to go with something in the nonprofit field," said Severns.
With this position, Severns works directly with The Salvation Army's Emergency/Disaster Services (EDS) and oversees nine counties stretching from San Luis Obispo to Imperial County—a geographical location that is often preparing for emergency disaster situations such as wildfires, earthquakes and flash-flooding.
Severns said there was no hesitation with this career jump and explained that it was a natural transition that allowed her to be a part of a nonprofit while continuing to assist the community.
To guarantee the community is receiving the best aid possible, Severns recently worked with Salvation Army officers in training (cadets) to ensure they are qualified to go out on the field and assist when needed.
"She's keeping busy by making sure the cadets have certified first aid training," said College for Officer Training Director of Business Administration Major Premek Kramerius. "And that they know everything about Emergency Disaster Services and how they can help in the corps."
Training is what most of Severns' focus is on, as she explained it is a crucial part of preparing for disaster. She ensures that not only the cadets, but Salvation Army employees and clients are prepared with the skills, knowledge and resources needed to handle emergencies or situations relevant to their entity by teaching seminars on topics like CPR, food safety and active shooter response.
"She's been able to help our sites to make security plans, assess the actual facilities themselves and work on any security improvements," said EDS Director of Southern California Nicholas Nguyen.
As a part of the security efforts and with her knowledge from working in emergency management as police chief, Severns has developed an active shooter response that focuses on recovery and the training of those involved with The Salvation Army to prepare for the event of an active shooter.
"She's not just an up-and-comer," said Western Territorial EDS Director John Berglund. "She's a seasoned professional who we're lucky to have on our team."
Berglund further describes Severns as someone who made a dynamic impression upon hire and knows what they're doing.
Much of the work Severns is involved with at The Salvation Army utilizes skills and knowledge she has developed while working in law enforcement. Both professions interact with emergency scenarios, making Severns familiar with varying standards and forms of practice when it comes to things like emergencies or security protocols.
"Because of her past roles with law enforcement, she knows the ICS, or the Incident Command System, way more and is able to be a trainer for cadets as they are going to school," said Nguyen.
The ICS is a standard of practice that is recognized and utilized throughout multiple organizations and is effective when determining how to respond to an emergency disaster situation as it helps in the command, control and coordination of emergency response.
Severns is currently working on developing specific exercises that correspond to various disasters.
"Whether it's an earthquake, a fire, major weather or active shooter," said Severns. "We will have an exercise that is able to not only demonstrate the strengths of a specific Salvation Army entity but also to see the strengths of the employees to make sure that they have the information they need to respond to an emergency."
Nguyen said that just recently, with the stormy February weather, Imperial County was largely impacted as high winds left over 100 people without power.
Severns then coordinated with the corps, which resulted in the organization and distribution of food boxes to those who had lost power.
"I'm just really impressed with the impact and changes that we can make in people's everyday lives," said Severns. Getting that front-row seat to the differences that are being made is one of Severns' favorite parts of the job, and she's eager to continue growing within the position.
"She's been a welcomed addition to the Southern California team, as well as to the territorial team," said Berglund. "She has truly been well received and appreciated all around."
---
Do Good:
See how The Salvation Army fights disaster.
It's because of people like you that The Salvation Army can serve more than 31 million Americans in need each year. (That's almost one person every second, every day.) Your gift helps The Salvation Army fight for good all year in your community. It's an effort to build well-being for all of us, so together we rise. And that good starts with you. Give to spread hope with a donation of funds, goods or time today.
Caring Magazine is a magazine from The Salvation Army for people who care. People like you! Subscribe to the list and join 23k+ people who care. You'll get weekly inspiration sent right to your inbox in the Do Good Digest.