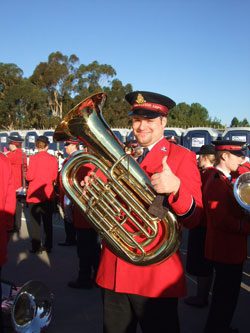 Canadian youth head south for Rose Parade
Pasadena once again welcomes Salvation Army marching band to New Year celebration.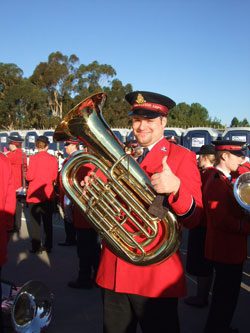 By Julia Hosking
Young people of the Canada and Bermuda Territory again participated in the world-renowned Pasadena Rose Parade in California on Jan. 2. Watched by millions in the U.S. and Canada—live and on TV—the 10 Canadian musicians—ages 16 to 26—marched as part of The Salvation Army Tournament of Roses band. The ensemble also included Southern California marchers and the Household Troops Band from the United Kingdom—this year's guest band.
"I was excited to be able to share with others the music of The Salvation Army in praise to God," Nygel Washington-Purser, Meadowlands Corps, said. "I was also excited that there were so many others there to meet and fellowship with from around the U.S. and Canada."
Representing The Salvation Army's Canada and Bermuda Territory in 2012 were:
Oshawa Temple, Ont.: David Reid, 1st cornet and Victoria Burditt, 2nd cornet;
Calgary's Glenmore Temple: Mariah Atkinson, euphonium and Elizabeth Robinson, 1st alto horn;
Corner Brook Temple, N.L.: Jessica Butt, solo cornet;
Woodstock Corps, Ont.: Gregory Jolly, 1st cornet;
Hamilton's Meadowlands Corps, Ont.: Zachary Casey, 1st cornet, Katie Stevens, 2nd cornet and Nygel Washington-Purser, 2nd tenor horn; and
Winnipeg's Heritage Park Temple: Jonathan Bagshaw, Bb tuba.
Bagshaw marched in the parade for the fifth time.
"The Salvation Army's participation in the Rose Parade is a way to witness to the world through our music, making a stand for Jesus in the midst of everything else happening along the parade route," he said.
Opportunities for young people
"Our youth are at the top of our priority list here at Glenmore Temple," Corps Officer Major Eddie Vincent said. "It is important for us to invest in their growth and development, and this is one way we can support them in their Christian ministry and service."
Both girls representing Glenmore Temple were enthusiastic about the opportunity to march in the Rose Parade.
"I couldn't wait to represent my corps," Atkinson said.
"I was excited about meeting other Salvationists and developing new connections and friendships through music," Robinson said.
The participants acknowledged the potentially arduous walk involved in the parade—the route is nearly nine kilometers (5.5 miles)—however, many expressed that this was simply part of the event's appeal.
"I anticipated the parade would be a lot of fun," Burditt said. "It benefited my spiritual growth and was a great way for others to experience God through The Salvation Army's music."
"It was a learning experience for the young people," Corps Officer Major Robert Reid, Oshawa Temple, said. "It broadened their understanding and appreciation for The Salvation Army and its ministries in another country."
The 123rd Rose Parade was the 91st year of participation for The Salvation Army Tournament of Roses Band, contributing to many memories for Salvationists of all ages.
"I've been playing cornet in various bands for about 10 years and I am always looking to participate in different events," Butt said. "I'd heard about this experience from a few of my friends at my home corps and couldn't wait to be a part it."
This year's theme, "Just Imagine…" was particularly fitting for Casey's feelings about the parade.
"I have sat and watched the Rose Parade from the side of the road a few times," the 16-year-old shared, "and to think that I marched in that same parade and represented The Salvation Army is unimaginable."