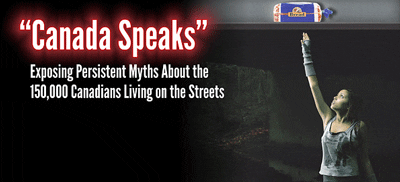 Canada Speaks: Salvation Army Report Reveals Public Perceptions about the Nation's Homeless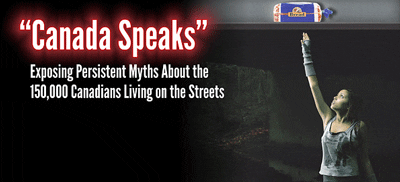 Canadians have spoken and they have something to say about homelessness in Canada. A report released today by The Salvation Army provides a unique look into how Canadians feel about the more than 150,000 homeless living on the streets in cities across the country. The report, "Canada Speaks," is a part of The Salvation Army's ongoing Dignity Project – a national effort to educate and engage Canadians about the reality of poverty in the 21st century.
Commissioner William W. Francis, leader of The Salvation Army in Canada and Bermuda, says: "We hope that through this report and the Dignity Project, we can continue to educate and inspire the public and work towards a Canada without homelessness."
The Salvation Army is highlighting the issue of homelessness this month as part of its annual May Red Shield Campaign and the ongoing Dignity Project. Money raised during the campaign will directly support those living in poverty today through social services like emergency shelter care, substance abuse counseling and employment training.
The Salvation Army provides direct, compassionate, hands-on service to more than 1.6 million people in Canada each year, restoring hope and dignity to the most vulnerable in society. As an international Christian church that welcomes everyone, The Salvation Army's faith motivates its mission to serve and treat everyone with dignity and respect.
Financial contributions can be made by donating online, by calling 1-800-SAL-ARMY (725-2769), by mailing donations to The Salvation Army, 2 Overlea Blvd., Toronto, ON M4H1P4 or by dropping off financial donations at the closest Salvation Army facility in your area.
Donors can also support the May Red Shield Campaign by texting HOME to 45678 from most mobile carriers in Canada. A $5 donation will be added to your monthly mobile bill.