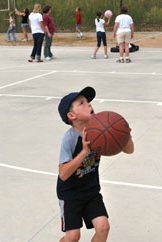 CAMPS
For those who have been around The Salvation Army for a while, this word conjures up various memories…of lifelong friendships formed, of romances-some which last-and most importantly, of decisions made for Christ and faith strengthened.
Rachel Utrera, Southwest divisional youth development and programs specialist, said, "I've experienced camp as both a camper and a staff member, and I know the impact that a positive summer camp experience can have on a person. An energetic group of kids, a loving camp staff, a safe
operating camp and fun programming-that's a recipe for an awesome summer…one that you remember for a lifetime.
Camp is a place where you make friends, explore and learn new things, challenge yourself to become better, celebrate being part of a team and consider how you fit into God's world and his plan.To know that we could offer that to nearly 1,000 campers [in the Southwest Division] this summer is a humbling and honoring experience. Is there a better way to spend your summer?"
This year, over 10,000 kids in the Western Territory took part in The Salvation Army's camping ministry. May God continue to work through this ministry and the committed divisional youth secretaries, camp directors and staff, and all the young people who together-in the presence of God-experience an unforgettable time of enrichment and spiritual growth.
Please enjoy the following reports from some of the West's summer camps.