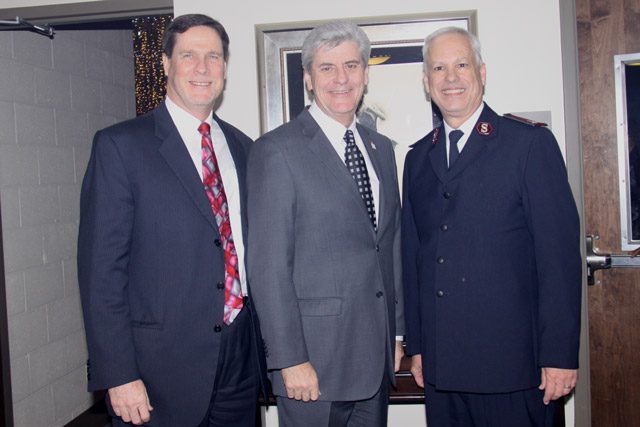 'Strictly to serve'
Get to know the new National Advisory Board chairman
By Marlene Klotz-Collins – 
Bill Burke, senior vice president of marketing for Nationwide Insurance, assumed a new role as chairman of The Salvation Army National Advisory Board in January. Yet, serving others is nothing new to this executive.
Burke, an only child, grew up in a lower income section of Yonkers, N.Y. "I had wonderful parents who taught me about loving others, and seeing and doing something for those in need," he said.
As a child, he recalls seeing the shiny red kettles, Army uniforms, meals for the hungry and Salvation Army thrift stores. While attending Cathedral Prep in New York City, Burke volunteered as an inner city tutor and then as a basketball coach for underprivileged kids while a student at Stony Brook University on Long Island.
He then earned a master of business administration degree from the University of Connecticut, and launched a marketing career with The Nestle Company in 1974, the same year he married his wife Marianne.
He decided to chase an entrepreneurial call in 1984 and joined a product design and branding firm called Fitch. "It was big ideas, blue jeans, pure innovation for great clients like Black & Decker, Whirlpool and Ford," Burke said. He and his colleagues grew the company by 500 percent in 10 years and went from a single location in Ohio to several global locations.
In 1994 he joined Battelle, the largest research and development (R&D) organization in the world. In 2000, he stepped in as head of Global R&D and Innovation for The Scotts Company where he stayed until 2005 when he joined Nationwide. There he has led marketing for property and casualty and also financial services.
While changing the marketing landscape at various companies over several decades, he and Marianne raised three children—Erin, BJ and Brad—all of whom are now married with four children each.
"I love family stuff, golf, traveling, playing with the grandchildren," Burke said. "Our favorite family vacation spot was in Sunset Beach, N.C. We went there as a family every year for 23 consecutive years."
He is active in his local church ministry as a small group leader, and advanced his theological education by earning a master of ministry degree from Grace College and Seminary in 2007. He now is Chairman of the Board of Trustees of that institution.
Amid a thriving business career and being a husband and dad, Burke never forgot the roots of compassion planted in him as a child. He said he joined The Salvation Army Columbus Advisory Board in 1996 "strictly to serve."
He and Marianne spent their "date nights" for two years driving to homeless shelters and makeshift camps, handing out plates of food and words of encouragement as part of the Heart-to-Heart Canteen Program in Columbus.
Together, they rang bells, painted community centers, cleared brush at campgrounds, signed up families for utility bill assistance and Christmas programs.
"Beyond serving I slowly became more involved in the board's work with programs, capital campaigns and outreach," he said. He joined the National Advisory Board in 2010.
"Bill has fully embraced his role as chairman of the National Advisory Board," said National Commander Commissioner David Jeffrey. "His heart for our mission coupled with his exceptional leadership and marketing skills are such a gift for us. His very close involvement with Pathway of Hope, since its inception in the Central Territory, is also of tremendous value in his new leadership role."
As for his bucket list for The Salvation Army, Burke has a specific agenda.
"I would like The Salvation Army to be the most attractive service organization for a new generation of millennial volunteers," he said. "I also want to see Pathway of Hope fully rolled out nationally and implementing the actions required to end trans-generational poverty for the families engaged in the program. I would like the Army to be the mobilizer to engage states, counties, cities and other nonprofits to aggressively fight the scourge of human trafficking."