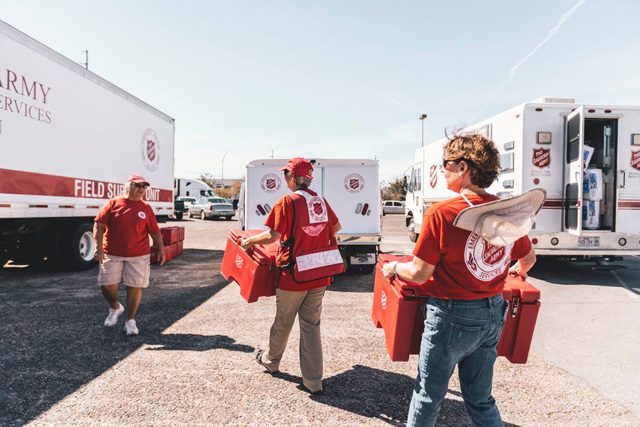 Brutal hurricane season prompts EDS action
Panama City, Florida, resident Ashley Johnson and her four young children waited in line for a hot meal from The Salvation Army's mobile feeding kitchen in the late morning heat. The family managed to evacuate ahead of Hurricane Michael as it approached the area as a category 4 storm.
"We thought about riding it out, but we knew it was time to go when it nearly became a category 5 hurricane," Johnson said.
Returning home, they found what most in the area did: trees blown down, damage to their house and no electricity to speak of. Keeping her kids entertained over those initial days wasn't easy she said, but they were still standing, alive and thankful that The Salvation Army was there to provide food for her family.
"You don't know how much you appreciate a hot meal and something to eat when everything is so scarce and have to feed your family," Johnson said. "It's amazing to have The Salvation Army helping, it really is."
Atlantic hurricane season saw a brutal second half as back-to-back category 4 storms, Florence and Michael, battered a stretch spanning Florida, Georgia, Alabama, the Carolinas and Virginia. Forecasters warned that while the Atlantic was quiet after Florence made landfall, hurricane season was still far from over. A few weeks later, their prognostication proved correct in the worst possible fashion. Michael, the strongest hurricane ever to hit the Florida Panhandle, bore down with force comparable to a 15-mile-wide tornado.
In all, five states declared states of emergency: Florida, Alabama, Georgia and the Carolinas. South Carolina Gov. Henry McMaster noted that his state was still recovering from floodwaters left behind by Hurricane Florence, which had hit just several weeks earlier. In fact, several of The Salvation Army's teams from the Alabama, Louisiana, Mississippi (ALM) Division had just returned home from responding to Florence on Monday—barely enough time to gear up for the new threat posed by Michael.
The aftermath of Hurricane Michael left areas of Florida, in particular, unrecognizable from the peaceful beach towns they were just a few days prior. Widespread power outages and significant property damage plagued residents in the Panhandle and all the way up to Virginia. One building not spared by the storm was The Salvation Army's Domestic Violence Shelter in Panama City, where the ceiling collapsed after two trees fell on the roof. Still, Salvation Army staff and volunteers kept their eyes affixed on the goal: serving and providing hope.
"We're prepared for a marathon, not a sprint, knowing that recovery from this storm will take years," said Major Otis Childs, Administrator for The Salvation Army in Panama City.