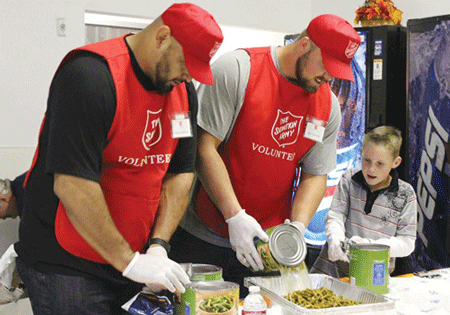 Broncos tackle Thanksgiving preparations
By Melissa McKewen
Five members of the Denver Broncos professional football team spent their off day, two days before Thanksgiving, lending a helping hand to The Salvation Army Denver Harbor Light's program to feed the needy at its Thanksgiving Community Meal.
Wide receiver Eric Decker spearheaded the project, bringing along defensive lineman Ben Garland, guard Chris Kuper, linebacker Joe Mays and guard Manny Ramirez. The teammates, along with their wives and Jessie James—Decker's fiancee—spent the afternoon at the center helping with preparations.
"We have several Broncos here helping us prepare food for our community event at the convention center on Thanksgiving Day," said Captain Grady Brown, divisional secretary for the Intermountain Division. "I've served in several cities with a [sports] team and they're always happy to be involved. The community loves it."
The players had their own reasons for participating.
"You definitely want to give back and do whatever you can," Mays said.
Garland and Ramirez teamed up to open industrial-sized cans of green beans.
For Colorado native Garland, being able to make an impact where he grew up made his experience even more meaningful.
"Any time you can help out the community, it's literally helping out your neighbors, the people you've lived with your entire life and plan to retire with. I love helping out Colorado any way I can," Garland said.
Decker and James opened stuffing bags and portioned out cranberry sauce.
"I think helping out around the holiday season is fantastic, allowing families to enjoy a great meal with great company and really create a memory," Decker said. "It's something I've been blessed with throughout my life because I've had family and home-cooked meals and good memories that I cherished growing up."