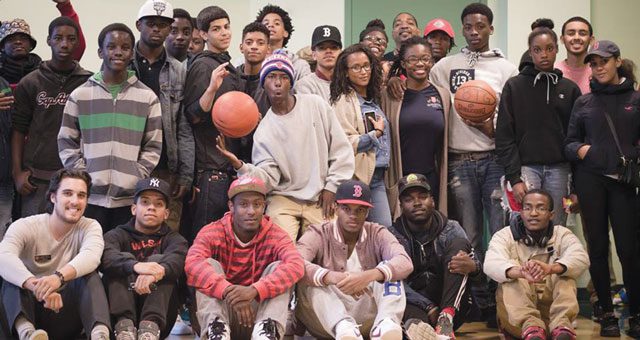 Bridging the Gap yields positive results
7 in 8 kids did not reoffend within a year of graduating in 2014.
By Emily Curiel—
The Salvation Army Bridging the Gap (BTG) program in Massachusetts helped prevent 87 percent of its 2014 graduates from reoffending within one year of completing the program.
BTG offers a free life skills community service program that targets at-risk youth ages 12-17. The program has served over 6,600 youth at 13 locations across Massachusetts over the past three decades.
Originally introduced to the court system as an alternative for troubled youth, BTG now runs in several locations in New York and Pennsylvania as well. Rather than being locked up or doing community service, students learn life skills and how to make better decisions.
Jovan Zúñiga, director of BTG in Boston, said the curriculum can be dissected into three components: health and wellness, me and my community, and education and future.
"The life skills we teach are really built toward empowering the youth to understand themselves and their community and also giving them tools to be able to make better decisions for better life outcomes," Zúñiga said. "We're really looking toward healing and betterment."
Another way that BTG helps build character in youth is through a lesson they teach called ETECA (Emotion, Thought, Experience, Choice, Action), which was developed in Boston.
"That's the processes we tell them [students]," Zúñiga said. "For every decision that you make, you have to understand that there's a process that you're going through. A lot of times we skip through that part of it. We experience something, we feel it, and then we decide what we're going to do or we just act. Instead, if we're able to think a little bit more and we're able to kind of beef up our knowledge on certain things, then it'll change how we feel about a situation and ultimately empower us to make better decisions."
According to Zúñiga, kids in Boston have it especially tough, as 75 percent grow up fatherless.
"And for our program it shoots up to 85 percent, so it's a huge issue and one that the kids don't really get to speak about," Zúñiga said. "So our life skills curriculum gives them the opportunity to discuss these things and be able to heal from these wounds."
Classes include various opportunities for touring, mentoring, music and arts and physical activity at the recreational center. When signing up for the program students must make a commitment to improve their grades and report back on their school work. Attendance for BTG is mandatory and unexcused absences are reported to a referral source. Students are expected to graduate from the program and complete the successful follow-up period of one year without reoffending.
"When it comes to the money saving aspect of why this program is important, it costs way more to incarcerate a kid then it does to send them to a program like BTG," Zúñiga said. "We keep these kids out of the court system and that has a lot of positive life consequences…So, when the kids leave the program, they're not only leaving empowered to make better decisions for their own lives, but they're not walking around with as much anger, resentment and depression that a lot of our kids come into the program with."
Zúñiga added that the majority of students continue their education after completing the program and begin a career.
"I had a lot of bad influences when I started Bridging the Gap, but at the end of the day I learned that this is more important, this is helping me," said 17-year-old Asa, a BTG graduate. "I became a better person. I'm not in the courts anymore. I'm going to school and trying to get a job."
Jasmine, a 19-year-old BTG graduate, said one conversation with a staff member stuck with her.
"I remember one day I was going through a tough time and she specifically told me, 'You can call me anytime. I'll pick up the phone and make sure you're okay,' she said. Just hearing that, it's a really deep, good feeling knowing that when you have no one else in the world, that at least the people here at BTG, they care about you and are here for you."