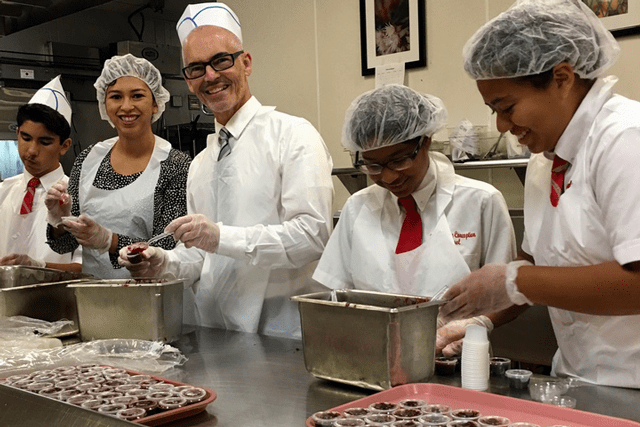 Brakes on meals
Funding for Meals on Wheels programs nationwide, including those administered by The Salvation Army, could see cuts.
By Kristin Marguerite Doidge –

For The Salvation Army, home-delivered meals are an efficient way to serve people in need at a low cost.
And experts agree. A 2015 study by the Kaiser Foundation estimated that Meals on Wheels could provide a senior with an entire year of meals for the same cost as just one day in the hospital.
In recent days, the program has sparked a national conversation about the importance of hot meal delivery to seniors and others in need as it could be a casualty in the proposed federal budget cuts.
The proposed budget calls for the elimination of two key funding streams that some of these groups rely on: Community Development and Community Services Block Grants, a $3 billion program that started in the Ford administration to give states and cities more flexibility in how they combat poverty.
In addition, the Older Americans Act (OAA), administered by the U.S. Department of Health and Human Services (HHS) funding, represents on average about 35 percent of a Meals on Wheels program's budget. The new budget proposes a 17.9 percent cut to the HHS budget.
While this federal funding is only a part of what helps this vital program survive in local and state jurisdictions, any threats to funding sources for home-delivered meals providers could be prove costly for seniors who rely on their services for much more than just a hot meal.
"Meals on Wheels programs are incredibly important," said Eric Carlson, directing attorney at Justice for Aging. "There really isn't an alternative. When you think about it, what else would you do?"
Indeed, Meals on Wheels delivers more than 218 million meals each year to more than 2 million seniors, according to Meals on Wheels America. The program relies on the help of more than 2 million volunteers and local grant funding for its 5,000 local providers.
"Every time I come home from the hospital, Meals on Wheels is there," said Ralph, a senior in Los Angeles who has received meal deliveries through the service for 23 years through St. Vincent's Meals on Wheels.
The Salvation Army Glendale (California) Corps subcontracts with St. Vincent's Meals on Wheels, one of the largest providers in the country, to purchase meals for about $5 each. The corps then delivers the meals to members of the local community through its volunteers and staff.
Through partnerships like this one and its own home-delivered meals programs—from the Older Alaskans Program in Anchorage to Meals that Heal in San Francisco or Club 60 in San Diego—The Salvation Army Western Territory delivered nearly 332,000 meals in 2016.
Despite suffering a massive heart attack in 1994, Ralph still lives in the home where he and his late wife Lois raised their four children. And while he now has 12 grandchildren and two great-grandchildren, most of them live in the northwest.
The most vital part of the service is the friendly hello and wellness check that comes along with potatoes and salisbury steak. It's something Ralph can appreciate, especially given that his adult children don't live in the area. In fact, he calls it lifesaving.
"When the drivers are new, we always reinforce that the food is secondary," said Rick White, Director of Operations at the Glendale Corps. "You may be the only person they see all day. You're the eyes and ears into the house."
When a client was suffering from blackout spells, for example, White contacted the family and helped ensure she was seen by a physician. "It ended up just being a medication change that was needed," he said. "But she was able to stay at home."
Brown University, as reported in the
Health Services Research Journal
, found that even an additional $25 spent by each state on home-delivered meals per person translates to millions of dollars in Medicaid savings annually. Another Brown University study published in 2015 found that high-risk seniors receiving daily meal deliveries showed greater improvements in both mental and physical health, fewer hospitalizations and were less likely to fall.
Falls alone, according to the Centers for Disease Control and Prevention, cost the nation more than $31 billion in annual Medicare expenses.
"A lot of the seniors we've met through our program are house rich but cash poor," said White. "They don't have the cost of housing, but they don't have any income either."
White said small gifts and grants sometimes come in to The Salvation Army earmarked for home-delivered meals, which make a big difference.
"We take a loss on the program," he said. "But we feel it's important enough to the community that we'll do it as long as we can."