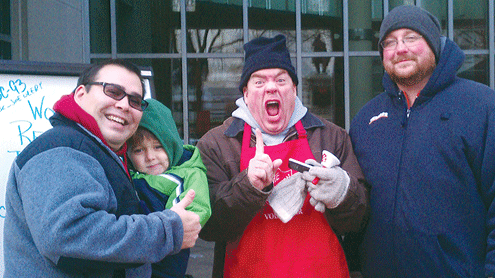 Bell Ringing World Record contest sets new record: 60 hours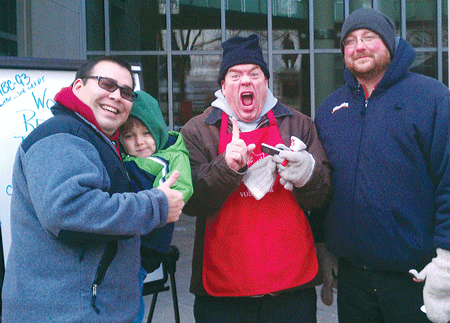 Three contestants outlasted competitors to set world record.
 Darrell Tureskis, 49, from Springfield, Ill., rang until a few minutes past midnight Saturday, Dec. 17, 2011, in his bid to set the new world record for the longest continuous hand bell ringing at a Salvation Army Red Kettle. Two volunteers from Indianapolis, Caleb Stokes and Leilan McNally, also rang for 60 hours until midnight, far surpassing the previous record of 36 hours set in 2010.
Tureskis, a small business owner, outlasted the field of Salvation Army volunteer bell ringers who stood at kettle stands in cities across America to raise awareness for The Salvation Army's 120th Red Kettle Campaign to support people in need. The volunteer bell ringers in the contest endured fatigue, hunger, and cold weather, while continuously ringing the bell.
The contestants—including nine
Salvation Army officers, staff members, former residents and community members—rang from coast to coast and even in Alaska. Many stood in front of Walmart Stores or in areas with high foot traffic in their cities.
Participants were bound by several rules that tested their endurance during their attempt: participants must stand the entire time; participants may not eat; participants may drink hydration products only such as water, Gatorade or juice; participants must ring a bell at all times; participants only may use a bathroom once every four hours, during a 10-minute break.
Behind the three-way tie for the record, Jason Perkins, from the Western Territory, tied for second longest ringing time at 57 hours. Perkins, a former U.S. Army Ranger, is the newly appointed center director of the Suisun City Kroc Center in Suisun City, Calif. He outlasted many competitors, despite over 20 surgeries on his knees and legs due to injury from a parachute accident while enlisted.
The ringers were inspired by acts of kindness including small children who donated the contents of their piggy bank, onlookers who provided soft mats to stand on and calf massages as the contest wore on. Many people followed the contest online through social media including on Twitter (#RingItOn).
The top five contestants included: Darrell Tureskis (Springfield, Ill.) at 60 hours, Leilan McNally (Indianapolis, Ind.) at 60 hours, Caleb Stokes (Indianapolis, Ind.) at 60 hours, Jason Perkins (Suisun City, Calif.) at 57 hours, and Saundra Shearon (Cleburne, Texas) at 57 hours.
From blog.salvationarmy.org