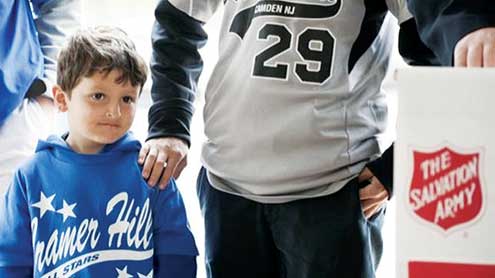 Baseball Tomorrow Fund aids Kroc Center
Grant will help build new baseball fields at New Jersey Kroc.
The Baseball Tomorrow Fund (BTF) donated $64,574 to The Salvation Army Ray & Joan Kroc Corps Community Center in Camden, N.J., to fund the construction of two new youth baseball and softball fields that will serve an estimated 1,000 players from local communities.
"We are grateful for this generous gift from the Baseball Tomorrow Fund," said Major Paul Cain, Kroc Center administrator. "This contribution will support local youth baseball and softball efforts in Camden, where the number of players and love of the game is growing every year."
Construction for the new 120,000-square foot facility is currently underway, and its opening is scheduled for 2014. The center will provide athletic programming, personal development and community services. In addition, there will be facilities for baseball, softball, soccer, football and various indoor activities.
The creation of this Kroc Center was made possible in part by a lead grant from the estate of Joan Kroc, who left a generous $1.5 billion to The Salvation Army in 2004 for the construction, operation and endowment of centers like these across the nation.
The intent behind the centers is to bring communities together and help create a safe place for education, family support, recreational use, and spiritual guidance.