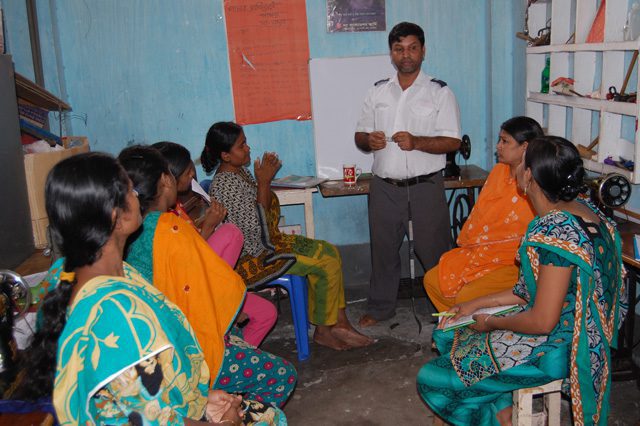 Leaving the brothel behind
Trafficking victims in Bangladesh become skilled craftswomen and entrepreneurs.
Chaitali was just 12 when she boarded a bus to Dumuria in the Khulna District of Bangladesh to meet her biological father. But she could not describe to the bus driver and supervisor exactly who her father was or where he lived, so they took advantage of the situation.
For the next few months, they sexually abused Chaitali. After that, they sold her to a brothel. There, Chaitali became pregnant and gave birth at 13. Her infant son was taken to live with her grandmother.
A year later, Chaitali escaped the brothel with her boyfriend and went to the police. Instead of helping, the police locked them both in jail, where the brothel owner found Chaitali and paid a bribe to have her released back into the brothel. She fled several more times, but repeatedly wound up back at the brothel.
Staff members of The Salvation Army's Health Care and Counseling Center (HCCC) in Jessore regularly visited the brothel, but Chaitali, who was addicted to drugs, wanted nothing to do with them. Yet, the staffers' persistence paid off, as they got the opportunity to counsel her and invite her to the HCCC––right across the street from the brothel.
Chaitali eventually agreed to go to the HCCC, where she learned to read, write and sew. She even parlayed her training into her own tailoring business. Now 30 and nearly two years into the HCCC's program, Chaitali still gets tailoring orders from women in brothels, but refuses to return to a life in the sex trade.
"I have changed," said Chaitali, who now sees her son regularly. "I have become a good woman and I will not go back to the work in the brothel anymore."
The Salvation Army's Integrated HIV/AIDS and Anti-Trafficking Project has helped over 600 Bangladeshi females like Chaitali regain control of their lives and work toward a sustainable future since its launch in 1993. With the assistance of International Headquarters' Technical Assistance Team on HIV/AIDS, the program operates at three different sites: Old Dhaka, Satkhira and Jessore. The three facilities offer testing for HIV/AIDS and other sexually transmitted diseases; counseling; literacy training; skills training; jobs through Sally Ann, The Salvation Army's Fair Trade Organization; and even small entrepreneurial grants. The project was previously supported by the Danish Mission Council Development Department, but is now seeking alternative funding.
Bangladesh is the world's eighth most populous country, and also one of the poorest in the world with a per capita income of $1.04 per day––well below the international poverty line. UNICEF estimates that less than 10 percent of children in Bangladesh are registered at birth, which makes it difficult to track whether their rights are being protected. Those who are abused, trafficked or exploited are explicitly denied their rights to be safe from these practices under the Convention on the Rights of the Child. They are also more vulnerable to HIV/AIDS and drug abuse and less likely to finish, or begin, school. Worse yet, many of the women and girls in brothels know of no other way to live, according to Victor Mondal, project manager for the three sites.
"Working with the commercial sex workers and prostitutes I saw a number of ways through which they can change their behavior and bring light of hope and fortune to them," Mondal said. "Therefore, I tried my heart and soul to change their behavior and involved them [in] any alternative job opportunity confirming a better lifestyle."
Some, like Chaitali, go on to become small business owners––selling everything from fresh produce to toys to cosmetics. Others gain employment directly through Sally Ann, selling their handmade crafts and clothing in Dhaka as well as Norway, Denmark and several other Salvation Army territories. According to project staff, the goal is to eventually sell the products online, but for now they're simply focused on providing victims a refuge from the brothels.
"I love these women," said Sushmita Biswas, project coordinator at the HCCC, who has worked with the program for 17 years. "I do not want to see them in this sex business. They are human beings and must be treated as human beings; not as sex objects. They need respect and have to come out from this hell and live with respect."
Chaitali's name was changed in this story.