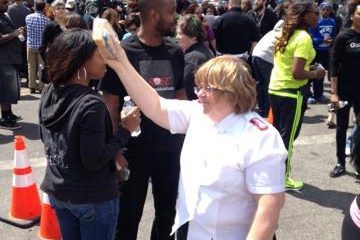 Army supports cleanup efforts in Baltimore
By Mallory Maxwell – 
The Salvation Army Central Maryland Area Command is serving Baltimore residents working to clean up their neighborhood after riots erupted following the funeral of a man who died in police custody.
A canteen has been deployed to the corner of North and Pennsylvania Avenue serving sandwiches, chips, and bottled water.
The request came from the city's Emergency Operations Center (EOC) on Tuesday morning which expressed a need for the Salvation Army to help residents and volunteers as they clean up.
Major Rebecca Hogg, associate area commander for the Central Maryland Command, said many residents are in shock about the destruction in their community.
"The Salvation Army provides comfort in times of crisis," Hogg said. "Whenever communities are hurting, we are there to put our arms around everyone and try to promote healing. Our thoughts and prayers go out to everyone in the city of Baltimore."
At the request of the EOC, The Salvation Army has placed two additional canteens on standby to offer food, water, and spiritual care at other locations being affected if needed.