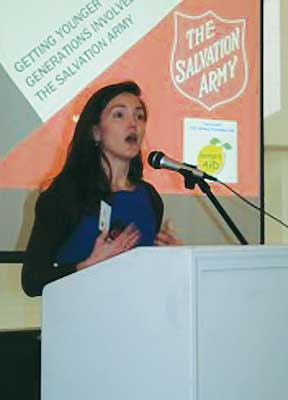 Attracting younger supporters
Kentucky Army hosts retreat to brainstorm ideas.
The Central Kentucky Salvation Army gathered 30 members for a retreat to brainstorm attracting younger supporters to the work and ministry of the Army. The board is galvanizing Lexington and Georgetown volunteers who helped raise $48,000 this year running lemonade stands to support homeless children in Lexington.
One of the board members and presenters at the event was Marcia Larson.
"The event went well, largely because the officers oversee a very engaged board that's open and asking probing questions about existential and practical issues facing The Salvation Army," Larson said. "I loved the interaction, the questions, and the sense that the board wasn't just listening—they were developing a plan of attack as they listened to strengthen their board, engage younger people in their ranks, and think about the future."
The Central Kentucky Salvation Army has a 152-bed shelter for the homeless, a daycare for children, a clinic run by a physician and University of Kentucky student volunteers, and a Boys & Girls Club that serves 600 children each year, replete with a basketball court and a computer room.
"It's a privilege but also a responsibility as a board member to support what the officers are doing in the trenches, living out the gospel in their social and spiritual work," Larson said. "I don't wear a uniform but I'm drafted into the Army as a board member–making sure these officers are supplied, resourced/equipped, and encouraged in their tremendous work to help 30 million Americans. Forward to the fight!"