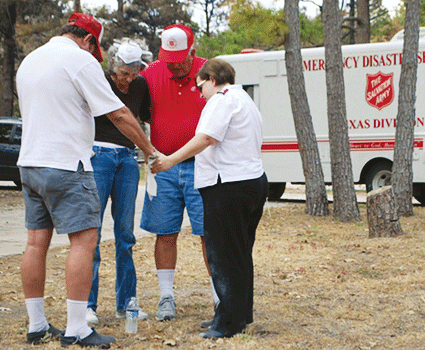 Assistance continues for Texas wildfire victims
The Salvation Army opened a Central Texas Wildfire Relief Center in Austin in mid-September to serve as a distribution point for donated items to wildfire survivors. Families and individuals who lost their homes can select donated items: clothing, shoes, toiletries, water and household items. Additionally, The Salvation Army is providing gift cards to those in need.
Seventy-eight volunteers responded to an appeal for help and sorted through the overwhelming number of donated items brought in by the KXAN's "Neighbors Helping Neighbors" campaign.
Although the fires in Bastrop County are mostly contained, The Salvation Army mobile feeding units are still active, providing food and drinks to those in need. Since arriving in Bastrop County, Salvation Army feeding units have served more than 23,500 drinks, 6,000 snacks and 1,600 meals.
To donate to fire relief efforts, visit salvationarmyusa.org or call 1-800-SAL-ARMY.