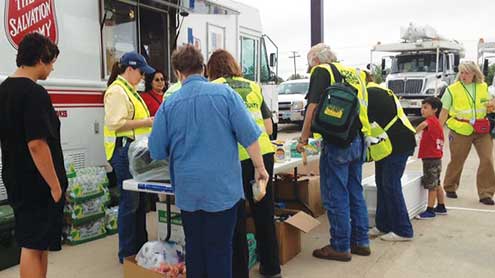 Army responds after Tornado hits Texas
Army is on hand to provide aid.
The Salvation Army went into urgent action May 15, after a devastating tornado ripped through North Texas. Officials said six people were killed as a result of the storm with as many as 100 injured. Approximately 20,000 homes and businesses lost electricity.
Three disaster canteens from the Dallas/Fort Worth area were deployed and provided refreshment, hydration and spiritual and emotional care to survivors and first responders. A mobile disaster kitchen from Dallas served first responders at the Incident Command Center in Granbury.
Residents remained evacuated while emergency crews worked to restore power and remove debris from the worst affected communities. Once residents return to their homes, it is anticipated that The Salvation Army will begin distributing household cleaning kits to help people with the process of cleanup and recovery.