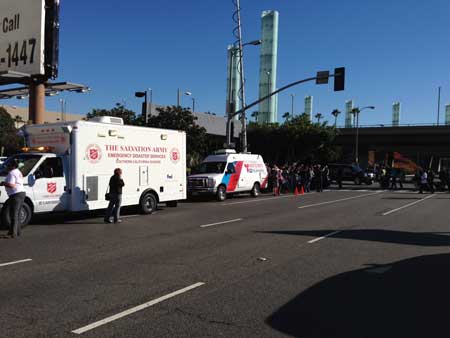 Army present amid chaos at LAX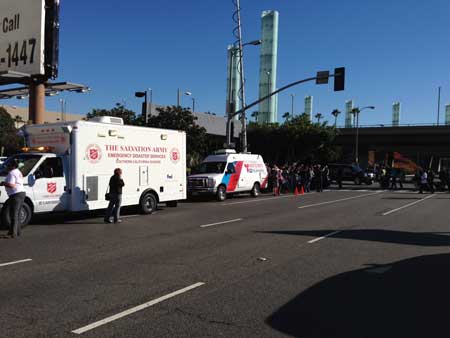 Inglewood Corps assists those affected after the airport shooting.
In the aftermath of the shooting on Nov. 1 at Los Angeles International Airport (LAX), The Salvation Army Inglewood Citadel Corps was on the scene to assist evacuees with refreshments and information as they waited for news on the status of the airport and their flights.
After receiving a call for action from Major Chuck Gillies, Southern California divisional emergency disaster services director, Inglewood Corps Officer Lt. Christopher Golden, along with six volunteers, headed to Century Blvd. and Sepulveda Blvd. to assist stranded passengers near the Radisson LAX.
Lt. Joanne Golden, Inglewood corps officer, and Lt. Jenny Davidson, Compton corps officer, provided resupplying and logistics support by working with a local Costco Business Center and Vons Grocery.
"The biggest complaint aside from not having any information, was that the airport did not provide them with refreshments throughout the waiting period," Christopher Golden said.
The team of volunteers was able to provide more than 1,200 drinks, 1,180 snacks, and airline communication updates to those affected by the tragedy.
"People were just relieved that The Salvation Army was there, and [was] taking care of what they needed without any questions," Golden said. "They were reassured that things were being processed accordingly, and the airport would have the situation back in order shortly."
The Salvation Army was able to connect a woman who spoke only Arabic to her family in San Bernardino (Calif.) after she got lost amid the evacuation chaos on her way to Chicago. She only had a piece of paper with three phone numbers, and through that volunteers were able to locate her family, and drive her to the corps to get picked up, as the freeway exits were closed near the airport.
"Our volunteers went above and beyond to make sure that just one person got her needs met, and I think that's just awesome," Golden said.
As a result of the Inglewood Corps' relief efforts, Golden received an email from LAX formally requesting that the corps be part of its emergency disaster program.