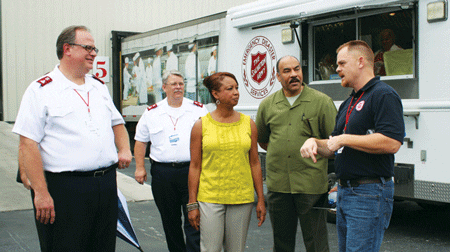 Army joins Operation Rehabilitation
The Army helped first responders and residents stay hydrated.
In late August, The Salvation Army concluded its work with Operation Rehabilitation, a collaborative effort by The Salvation Army, the City of Tampa, and several other agencies to assist people struggling to stay hydrated in Tampa's intense heat and humidity.
The Salvation Army strategically stationed 11 units in downtown Tampa, and served approximately 25,000 cups of water.
Lieutenant Jamie Ward, from Bradenton, said the best part of her week-long service was meeting people and making sure they were safe from the heat. She gave first aid to a police officer, and two days later met Tampa Police Chief Jane Castor.
"People are not used to this heat and humidity," said Doug Corwin, a staff member from Melbourne, Fla., who served in Operation Rehabilitation. "They don't know to drink a lot of water. We are helping to keep them healthy…We know how hot it can get in August and what a cold cup of water can do and how it can help on a hot, humid day."
For Marvin Lee, a Salvation Army volunteer from Vero Beach, Operation Rehabilitation was about more than just quenching thirst.
Tony, a homeless man, came to his hydration station near the Tampa Bay Times Forum asking for water. Lee said he gave Tony his lunch, prayed with him and gave him water.
"That's what we are here for," Lee said, "Giving people water and encouragement."