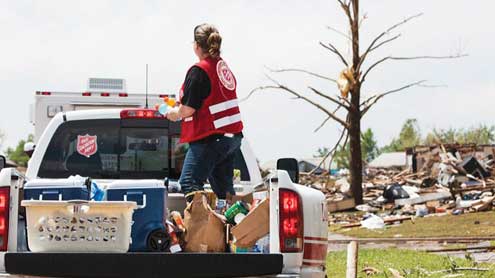 Army continues response in Oklahoma
ARC beneficiaries are lending a hand in relief efforts.
The Salvation Army continues to provide relief in Oklahoma following the EF5 tornado that struck Moore, Okla., on May 20.
Since then, The Salvation Army has provided 48,201 meals, 70,675 drinks, 62,431 snacks, 3,794 clean-up kits and 5,496 hygiene kits, and prayed with 8,567 persons. Volunteers, employees and officers have logged more than 13,543 hours. These numbers are expected to grow over the next several months as families and individuals rebuild, and as others come together to help The Salvation Army meet the need.
Beneficiaries of The Salvation Army's Oklahoma Adult Rehabilitation Center (ARC) have even joined in on the response, organizing food, bottled water and other goods to be distributed to survivors and first responders. There are currently 80 men in the Oklahoma ARC working toward recovery through life skill classes, counseling, spiritual development and work therapy.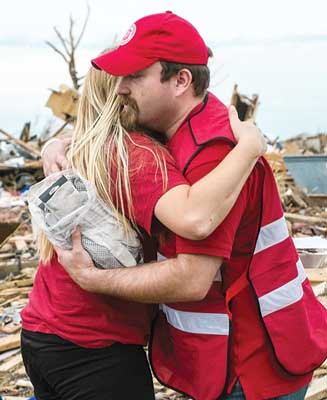 "The Salvation Army's Adult Rehabilitation Center is a place of recovery and healing," said Major Steve Justice, administrator of the Oklahoma Adult Rehabilitation Center. "Our team will continue serving our neighbors until we are no longer needed."
Many beneficiaries are relishing the opportunity to be of service to those affected by the disaster.
"Serving with the recovery effort gives us a chance to give back," said one program beneficiary. "When we were struggling with addiction…with alcohol and drugs…we weren't any good to anyone.  Now, we are making a difference and it feels great."
The Salvation Army is partnering with local governments and other disaster assistance agencies to provide both financial assistance and clothing vouchers to Salvation Army Family Stores for tornado survivors in Carney, Shawnee, Norman and Moore, Okla.
The Salvation Army's corporate partners have also played a pivotal role in the response. Polaris Industries Inc. donated 10 off-road vehicles to The Salvation Army for Oklahoma tornado relief. The vehicles, valued at nearly $250,000, will enhance The Salvation Army's ability to transport food, water and other critical supplies to survivors.
"With debris on the ground from thousands of destroyed homes, these vehicles will allow us to serve in places our mobile kitchens cannot," said Lt. Col. Robert Thomson, Salvation Army Northern Division commander. "This is the second time Polaris has come to our aid. They gave a similar gift during Hurricane Sandy relief efforts. They are amazing partners."
Papa John's is providing aid on the ground while also giving the American public an opportunity to get involved. In response to the storm, Papa John's sent a mobile kitchen to Moore to supply hot pizzas to people who lost their homes. Through the mobile kitchen, the organization has made and delivered more than 1,200 pizzas. Papa John's also facilitated a "Help Oklahoma" fundraiser on May 26. All day, $1 from every Papa John's order was donated to The Salvation Army's relief efforts in Oklahoma.
John Miller, a longtime Emergency Disaster Services (EDS) volunteer from the Kansas and Western Missouri Division, is in the area offering emotional and spiritual care.
"[We're trying to] help people sort through what has happened, let them share their pain, and in turn, try to share hope."
Help the recovery efforts with a financial donation by visiting salvationarmyusa.org or by calling 1-800-SAL-ARMY.