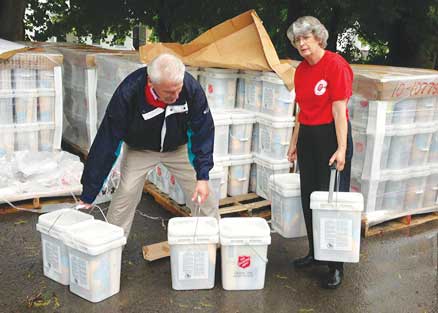 Army assists flood victims
The Mohawk River in New York overflows its banks.
The Salvation Army is providing emergency relief assistance to those affected by flooding in parts of New York.
"The Mohawk community had been hit badly," said Lt. Summer Hough, who is serving as The Salvation Army liaison at the Herkimer County 911 Center, which is currently serving as an Emergency Operations Center. "The Salvation Army is coordinating the logistics of serving hot meals to Mohawk residents."
Heavy downpour caused the Mohawk River to overflow its banks in early July, damaging houses and forcing residents to flee the area. The Salvation Army subsequently deployed mobile feeding units throughout the state with officers and volunteers providing sandwiches, coffee, donuts and other food to support residents in recovery.
Capt. Evelyn Hopping of The Salvation Army in Oneonta, N.Y., said that many flood victims are too busy cleaning their damaged houses to prepare food. "Because the Army can come to them, we are delivering clean-up kits and food while the streets are filled with water from the pumped out basements," she said.
In Herkimer, N.Y., an Army mobile feeding unit from Albany provided food for 48 individuals who took shelter at the Herkimer County 911 Center. The same feeding unit served nearly 300 Herkimer residents in several affected areas the first weekend of the flooding.
In Mohawk, N.Y., the Army mobilized its mobile feeding van and distributed food and clean-up kits, which include products and tools that are helpful in restoring a home or business impacted by water damage.
"We continue to need bottled water," said Major James Purvis, incident command officer for The Salvation Army in Oswego. "We've received many cases donated, but will need more over the next few days along with granola bars, juice boxes and individually packaged chips, cookies."
Donations can be made online to The Salvation Army at donate.salvationarmyusa.org/empire/disaster.