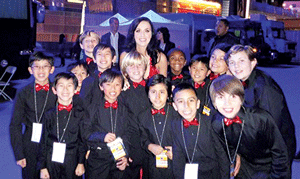 American Music Awards welcomes Tabernacle Children's Chorus
Members of the chorus appear with Katy Perry on awards show.
People noted the angelic performance of the boys from the Tabernacle Children's Chorus (TCC)—from the Pasadena (Calif.) Tabernacle Corps—on "Dancing With the Stars" when they accompanied Michael Bolton singing "Hallelujah."
Shortly afterward, Barbara Allen, director of TCC, received a request from Katy Perry's agent for a group of boys from TCC to accompany her live at the 2010 American Music Awards (AMA) at the Nokia Theatre in Los Angeles. With additional vocals recorded at Pasadena Tabernacle by some of the Tabernacle Youth Chorus members, the boys set off to the AMA for an experience they will likely never forget.
Lining up for backstage passes, they were stunned to see Miley Cyrus and Justin Bieber—who high-fived all the boys. Following a long day of rehearsals, the boys finally sang "Fireworks" with Perry before the live audience and many millions of viewers around the world.
Later, Perry met with them backstage to thank them personally. She was so pleased with their performance that she asked if they would be willing to help her on her next CD, which got a resounding "yes" from all the boys.
Visit the TCC Facebook page—look up "Tabernacle Children's Chorus"—to view photos from their AMA appearance. A video of the performance is available on YouTube: https://tiny.cc/3gp8y.
—Barbara Allen