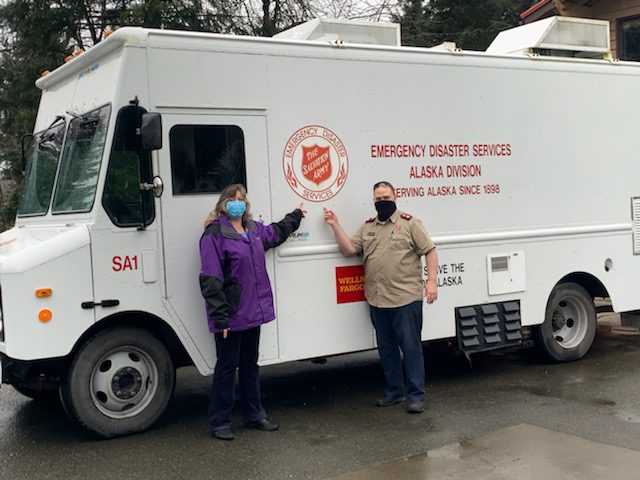 Alaska Salvation Army responds to devastating landslide
Alaskans rally to help meet community needs after the Dec. 2 disaster. 
The Salvation Army in Alaska is responding to needs in Haines, Alaska, following a Dec. 2 landslide, approximately 600 feet wide—the size of two football fields. Roads were washed out and homes were flooded; some homes were swept away. Families were displaced and sought shelter where they could find it. Evacuations continued to take place Dec. 3, and more may be ordered after geologists examine the area. Due to ongoing rain saturating the ground, the risk for further landslides is high. The rain is expected to continue for the next few days.
The Haines Corps, led by Captains Kevin and Serina Woods, received a call from the Haines Police Department the morning of Dec. 2, requesting assistance with shelter for two adults who had evacuated their home due to mudslides. The catastrophic landslide occurred that afternoon. 
By that evening, The Salvation Army had coordinated emergency shelter and provided warm meals, water, clothing and hygiene products for 20 displaced households. Church buildings, local motels and vacation rental units were accommodating evacuees. The local school is now being used as a shelter, as other lodgings fill to capacity.
One evacuated resident, Joe Aultman-Moore, told the Anchorage Daily News the town quickly went into survival mode.
"Within two hours the (American) Legion was open, The Salvation Army had carried in a whole bunch of clothes; they had hot chili and spaghetti," he said. "I mean, it was immediate."
Alaska Divisional Commander Major John Brackenbury directed the Army's 26-foot mobile canteen from Juneau to deploy to Haines Dec. 4, with the support of the Ferry Transit System. Juneau Corps Officer Major Shane Halverson accompanied the canteen to provide additional support to the community. The Salvation Army uses mobile canteens nationwide in emergency response efforts to meet community needs from food and water to PPE and hygiene products.
"Currently, we are coordinating response efforts for community members in Haines who will need our help for shelter, food and other resources in the coming days and weeks ahead," Brackenbury said. "Our thoughts and prayers are with the community of Haines during this difficult time."
According to Halverson's wife, Major Gina Halverson, the canteen arrived Friday morning, Dec. 4, and "hit the ground running." She said they had been able to fill it up completely with donated food and other supplies, including a generator. The Army is working with a number of people who are able to help in various ways—one man arrived with a backhoe. One of the volunteers who traveled to Haines from Juneau with the canteen is Juneau Advisory Board member Mark Stopha. 
Shane Halverson said the relief effort is "going really well," with people coming together to help. He said everyone coming into Haines is taking a COVID-19 rapid-result test.
"We're trying to be as COVID safe as we can be," he said, noting the last thing anyone wants is to bring the virus into the already beleaguered town.
Halverson said the Army is currently managing food distribution for both first responders and evacuees. Meals are being prepared at the local school; they will be serving three meals per day, along with handing out coffee, water and grab and go snacks throughout the day.
"We're making sure everyone gets fed," he said.
Meanwhile, the Woods are working closely with local emergency response officials in Haines and The Salvation Army's Divisional Headquarters in Anchorage to assess and prioritize the continuing needs and response efforts for the community. The Tlingit and Haida Association is one of the organizations The Salvation Army is working with in its response. 
Alaska State Troopers were in Haines Dec. 4 dealing with the aftermath of the landslide. According to a report on their Facebook page, the slide destroyed four houses and left a large swath in the terrain covered in 8-9 feet of mud, trees and debris. Out of an initial six people missing after the slide, two are still unaccounted for; their home was in the direct path of the landslide. The search for them is made more difficult since the terrain is too unstable for a search on foot. The Anchorage Daily News reported the search has been limited to helicopters and boats, with reinforcements from Alaska State Troopers, Alaska National Guard, the U.S. Coast Guard and search teams from Juneau.
Haines, a town of  about 2,500 people, lies in southeast Alaska, surrounded by water. It's in the northern part of the Alaska Panhandle, near Glacier Bay National Park and Preserve. It's accessible by sea, air and road, and is known for its incredible scenery and small-town ambience. The closest major city is Juneau at about 92 miles away, although travel time between them is 5 and a half hours.
Haines Mayor Douglas Olerud expressed his appreciation on Facebook to all those assisting Haines in the aftermath of the disaster.
"I am…thankful for living in such a caring community, region and state," he said. "The flood of support has been amazing. Seeing our community rally together and help each other is a great reminder why I live here. The support from our neighbor communities has been constant. [Alaska] Governor Dunleavy and all State of Alaska departments have done everything possible to assist… The prayers and financial support from around the world continue to be appreciated.
"Above all, continue to pray for Haines," Olerud said. "We will need lots of prayer in the coming days, weeks and months."
Shane Halverson was optimistic.
"Alaskans are survivors; that's what we do," he said. "We're resourceful and used to living in challenging circumstances. Alaskans come together to help each other out; communities come together. It's all going to work out."
---
Do Good: