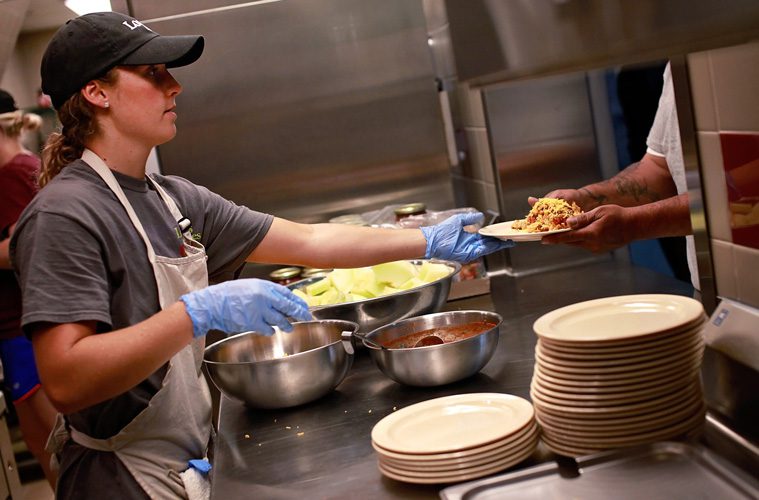 How The Salvation Army responds to disasters
While each disaster creates its own unique circumstances and special needs, Salvation Army disaster relief efforts focus on seven core services. These services may be modified based on the magnitude of the disaster and adapted to meet the specific needs of individual survivors.
Training
The first step in being ready to respond to an emergency is training. In partnership with other agencies, The Salvation Army's disaster training program offers a variety of courses designed to help individuals and communities prepare for emergency events and become trained disaster volunteers.
Food Service
When disaster strikes, one of the first signs that help is on the way is often the arrival of a Salvation Army mobile feeding unit, offering meals, snacks and drinks to rescue workers and survivors.
Emotional and Spiritual Care
Motivated by Christian faith, The Salvation Army deploys specially trained individuals to offer emotional and spiritual care to rescue workers and disaster survivors.
Emergency Communications
The Salvation Army Team Emergency Radio Network (SATERN) includes a worldwide network of volunteer amateur radio operators and other communications specialists, who may be mobilized to transmit emergency information during a disaster event.
Disaster Social Services
After a family has lost everything in a disaster, The Salvation Army is there to provide emergency assistance to help meet survivors' most urgent needs for food, clothing, shelter and medical services.
Donations Management
The Salvation Army is one of the nation's leaders in responsibly collecting, sorting and distributing donated goods. The Salvation Army encourages cash donations as the best and most flexible way to help and solicits only those in-kind donations which can be effectively received and efficiently distributed.
Recovery
The Salvation Army supports long-term disaster recovery operations with flexible programming that is adaptable to the unique needs of individual communities.
In each case, volunteers play a crucial role in disaster response efforts. Become a volunteer disaster worker with The Salvation Army Emergency Disaster Services program by first completing an application here.