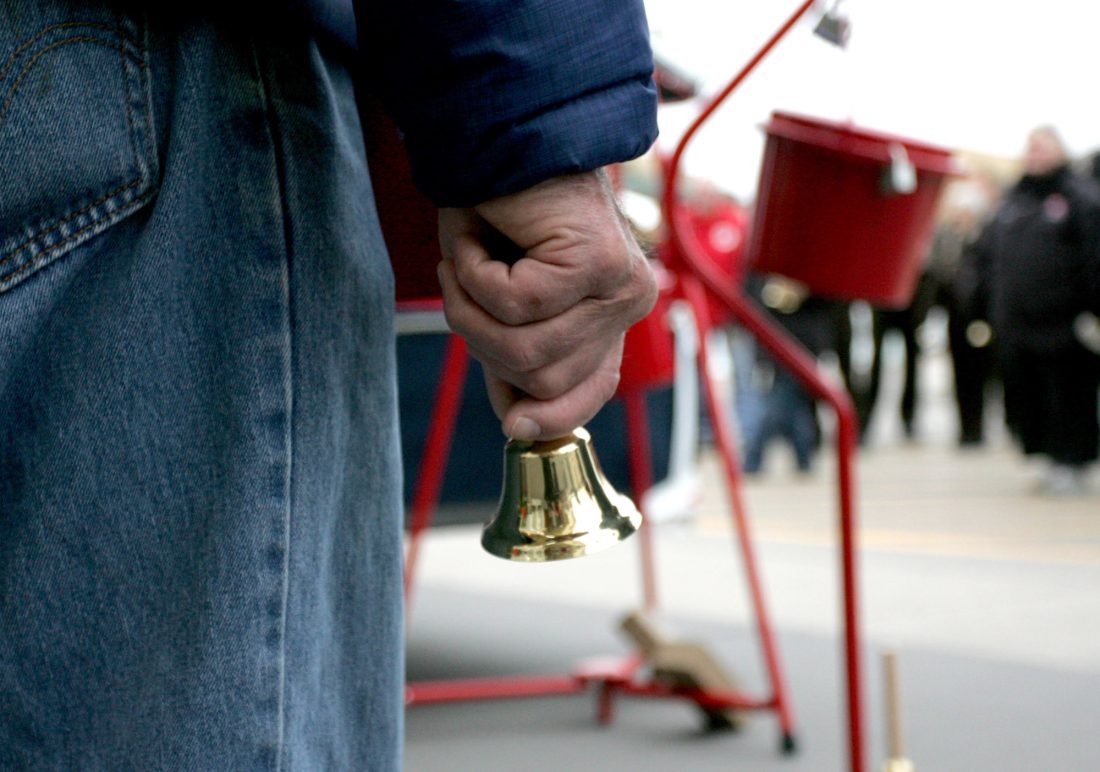 After this gold coin donor died, The Salvation Army shared his legacy with his family
The legacy of Spokane's 'gold coin guy'
In December 2009, the first gold coin from an anonymous "gold coin man" appeared in the red kettle for The Salvation Army in Spokane, Washington. It was the coin that started it all. For 10 years, the Spokane Citadel Corps received a gold coin in the kettle every Christmas season — along with a note. In December 2019, the note said that year's coin would be the last.
Who the anonymous gold coin donor was remained a mystery to most. Former Spokane Citadel Business Administrator Sheila Geraghty connected the dots. She knew the man was a retired Spokane fireman and Korean war veteran—and that his name was Bill, recalling a brief meeting that she and then-Spokane Citadel Corps Officer Lieutenant Colonel Kyle Smith had with him after his first donation.
After sharing the donor's story with her father-in-law — who was also a retired Spokane fireman — he told her, "That's old Bill Cooke."
Then, in September 2021, her father-in-law informed Geraghty that William "Bill" Cooke died from COVID-19. She attended the funeral along with Salvation Army staff, and left a note to his family informing them of his gold coin donations to The Salvation Army over the years. And soon after, she received a call from Cooke's son, Bo, who wanted to meet and hear the full story.
"It was a lot of tears," Geraghty said. "It was just emotional."
"[Bill] had these awful consequences from what he had to do in Korea…[but he had] just a very supportive wife [and] they were very faithful people," she said.
Bo further explained that his father had PTSD from his time in Korea.
"He's finding out that his dad was this quiet giver inside this troubled soul who suffered from being dirt poor when he was little," Geraghty said.
"He did not give because he was rich," Bo Cooke added. "He gave because he knew what it was like to be poor."
When Bo Cooke found out about his father's gold coin donations, however, he was not surprised.
"As a firefighter, [and] being a Marine, he would show up at a fire with his crew and he would look at it and say, 'That's too hot. I would never order my guys into that fire.' He would grab the lead hose and run into the fires, not sending his guys," Bo Cooke said. "That's the kind of selfless service that my dad was about. It wasn't because he wanted to — he just didn't want his guys to get hurt or killed."
And so his anonymous service to the community was not a complete shock to him.
"He, in secret, completely anonymously, would frequently give to people or causes with the understanding that his faith told him to do in secret and God would reward in the end. That's the way he ordered his life," Bo Cooke said. "What it did make me understand was the reasoning behind that was the selflessness of the individuals that he dealt with from The Salvation Army."
After the first gold coin donation, Bill Cooke called the corps offering to donate the difference of the gold coin value if they didn't receive the full amount when they sold it. It was then that Geraghty invited him to come to the corps to talk about his donation.
There, he shared with Geraghty and Smith that he first encountered The Salvation Army while serving in the Marines during the Korean War. The organization had volunteers distributing free coffee and donuts to the servicemembers. Then, when he returned from Korea and became a Spokane fireman, he once again came across The Salvation Army, who had brought sandwiches and coffee for the firemen when fires took place in Spokane.
She recalls that Smith told Bill Cooke about the Christmas Eve dinner they were hosting and that he gave them another $500.
"He wanted to pay back the kindness to The Salvation Army for those things," Geraghty said.
"His giving was a reflection of his heart. [He] was a good man who cared about people," Smith added. "He knew The Salvation Army would do something good and he wanted to do good…this was a way he could do it."
Adding to the gold coin mystery, was the anonymous man who would purchase the gold coins Bill Cooke would drop in the kettle every year. But he wouldn't only pay what the coin was worth—after hearing what the organization was doing with the funds from the gold coins for Christmas, he would donate an additional several hundred dollars to support Christmas outreach.
Geraghty recently connected Bo Cooke to the anonymous gold coin buyer.
"This [man] that bought my dad's coins met with me at his place of work and he slid an envelope over to me. And he goes, 'We were keeping each one of these coins because they belonged to the gold coin guy. We were keeping all of his notes as a family heirloom, but after I read the article about your dad, I felt that maybe the family should have his original letters and notes that he attached to them,'" Bo Cooke said. "So he handed me those. We were all in tears. It was a beautiful thing."
Bo Cooke describes learning about his father's contributions to The Salvation Army as a "wonderful Christmas present."
"I was really touched by the fact that rather than just be appreciative of The Salvation Army, he wanted to keep giving so they could continue to give to others," Bo Cooke said. "I'm just proud of the fact that he did it."
And the impact the gold coin had on the community The Salvation Army serves was powerful.
"The gold coin represented for me his desire that we continue on the good work of meeting people where they're at and lifting them up out of their situation and giving them love, hope, peace, food, [and] shelter…because those people someday will be back on their feet and fully operational," said Major Kenneth Perine, Spokane Citadel Corps Officer. "So it's gifts like this that allow that to happen."
---
Do Good:
You've probably seen the red kettles and thrift stores, and while we're rightfully well known for both…The Salvation Army is so much more than red kettles and thrift stores. So who are we? What do we do? Where? Right this way for Salvation Army 101.
It's because of people like you that The Salvation Army can serve more than 31 million Americans in need each year. (That's almost one person every second, every day.) Your gift helps The Salvation Army fight for good all year in your community. It's an effort to build well-being for all of us, so together we rise. And that good starts with you. Give to spread hope with a donation of funds, goods or time today.
Learn more about how The Salvation Army uses the money you donate at the kettle.