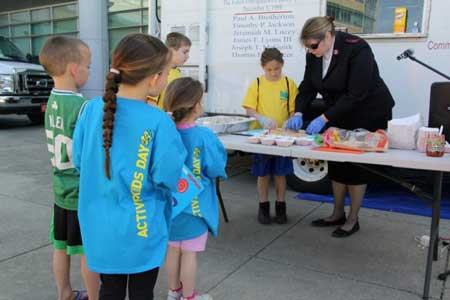 Active Kids Day in Boston
Reebok partners with Army to curb child obesity.
Obesity prevalence among children and adolescents has almost tripled in the last 30 years. According to the Centers for Disease Control and Prevention (CDC), approximately 17 percent (or 12.5 million) of children and adolescents aged 2 to 19 years old are obese.
To help fight this growing epidemic, The Salvation Army has partnered with Reebok and Build Our Kids' Success (BOKS) to help encourage children to live a healthy and active life through education, fun physical activity and healthy nutrition demonstrations.
The Salvation Army and Reebok celebrated this partnership by organizing the second annual Active Kids Day in Boston. This free, outdoor, family event promotes better fitness and nutrition awareness for approximately 1,500 local and surrounding area children and families.
"We love Active Kids Day!" the kids shout as they enjoy healthy snacks and a variety of fun games and activities organized by nearly 120 volunteers.
"Helping children grow up healthy is a major focus for The Salvation Army and we are privileged to work with a partner like Reebok," said Major Ivan Rock of the Massachusetts Division. "Active Kids Day is about getting families moving, eating well and leaving with tools to keep doing just that. Thanks to our friends at Stop & Shop, every family will leave with a cookbook full of healthy meal ideas."