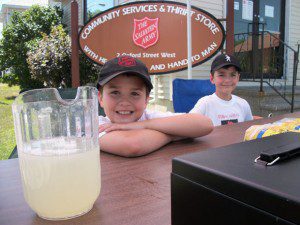 A cup of compassion
Ontario, Canada, children raise money for famine relief in East Africa.
Ba Caroline Franks
"They really need our help, so I decided to help them," Liam SAID. "That's what The Salvation Army does."
Liam Downey may only be 9 years old but he understands there are people around the world who need his support. He and his two brothers, 11-year-old Jacob and 4-year-old Aaron, held a lemonade stand in front of The Salvation Army Thrift Store in Kemptville, Ont., on Saturday, July 23.
What began as a lesson in the value of food at the dinner table, blossomed into a fundraiser for those affected by drought in East Africa.
"It was kind of all our idea," says Jacob. "Earlier we had been talking about doing a lemonade stand and at supper. Mommy started talking about the famine, so we asked if we could do it for the East Africans."
Their parents, Captains Simon and Allison Downey, Salvation Army community and family services officers, supported the children's idea and got to work.
"I wanted them to know about what was going on in the world," Allison Downey said.
The family went out and bought the lemons and spent Friday night squeezing them and coming up with just the right recipe.
"Thirty-six lemons, six cups of sugar, 36 cups of water and lots of compassion raised $150, which will be matched by the Canadian International Development Agency," Allison Downey said.
The children manned their lemonade stand between 10 a.m. and 2 p.m. The response from those who stopped by their table was very encouraging.
"They said, 'You're doing a good job and people will be very thankful for the money you're donating,'" Liam said.
From Salvationist.ca