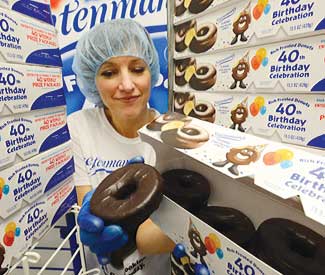 76th National Donut Day
Entenmann's Bakery helps  Army celebrate with donations.
Entenmann's Bakery is helping The Salvation Army celebrate its 76th annual National Donut Day on June 7. Entenmann's will donate $1 to the Army for every person who "likes" the Entenmann's Facebook page from May 1 to June 15, for up to $30,000. Fans also have the chance to win free donuts for a year and additional prizes.
"We're proud to continue our partnership with The Salvation Army for the third straight year," said Maureen Sticco, director of marketing services at Entenmann's. "The holiday would not exist if it was not for The Salvation Army and Entenmann's is excited to be a donut manufacturer associated with the holiday and the organization."
The Salvation Army celebrated the first National Donut Day in Chicago in 1938.
The event helped raise needed funds during the Great Depression and commemorate the work of the "donut lassies," who helped make the donut what it is today by feeding them to American soldiers during World War I. The donuts became synonymous with The Salvation Army, as well as the American soldiers who were returning home with the nickname, "doughboys."
Seventy-six years later, this tradition is still celebrated as a way to help raise awareness for The Salvation Army and to honor the service of veterans and volunteers.
"Every year on National Donut Day, The Salvation Army asks the public to remember those less fortunate who struggle to make ends meet," said Major Ron Busroe, national community relations and development secretary for The Salvation Army. "So, for everyone who enjoys a tasty donut today, please take a minute to consider ways to give back in your community."