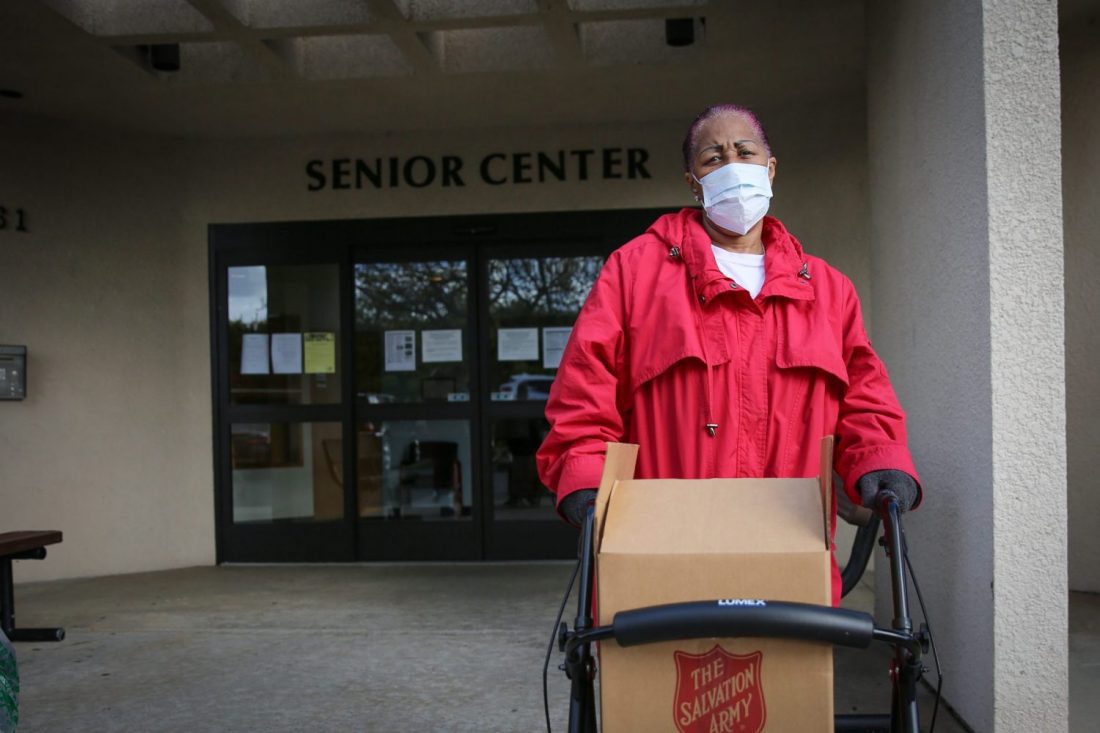 5 ways The Salvation Army is caring for seniors during COVID-19
The Salvation Army serves 23 million Americans a year in six key pillars of service in every zip code across the U.S. In the wake of the COVID-19 pandemic, The Salvation Army continues to serve in every respect—now more than ever.
While the Army houses the homeless, feeds the hungry, responds to disasters, serves kids and seniors, and helps people fight addiction, it does so with a mission to meet human needs in Christ's name. Here's a deeper look at one of those pillars of service—being there for seniors—and how The Salvation Army is helping amid the coronavirus.
The Salvation Army has traditionally helped seniors through community meals, joyful activities and visiting those who are homebound. Additionally, the Army houses 3,000 seniors throughout the western U.S. in a number of apartment-style communities called Silvercrests. 
Seniors have always been a priority to The Salvation Army. Now, with the age group among those considered to be at the highest risk of contracting COVID-19, the Army has modified the way it meets needs and shows love to seniors, following CDC recommendations and social distancing.
1. Ensuring food deliveries at home  
In Long Beach, California, The Salvation Army Long Beach Citadel Corps got a call before the state's Safer at Home orders from a senior who comes to its programs who couldn't leave home and didn't have enough food. The corps promised to deliver a food box. That person called her neighbors, and pretty soon the word got out The Salvation Army would deliver food. On the first day, the corps delivered eight food boxes.
By the end of the week, the Army delivered 309 food boxes and food bags to seniors, families and individuals in the Long Beach community, an effort that served more than 1,200 people.
Similarly throughout the West, the Army has stepped up its food box delivery efforts for seniors, and has modified its group meals to be served in to-go containers that are to be eaten privately. 
Officers from the College for Officer Training at Crestmont take the remaining food from the campus' meal service program daily to seniors at the nearby Redondo Beach (California) Silvercrest residence. 
"I carry on conversations with people on their balconies, just saying 'hi' and things like that, and I tell you what: they love the fact that they're not forgotten. They're getting the meals. They can cook their own meals, but it's just the fact someone is bringing it to them," said Continuing Education Officer Major Brian Bearchell in a territorial prayer livestream. "What they really appreciated was the other day we delivered four rolls of toilet paper to every room…it was such a relief to them that they didn't have to stand out in line."
2. Serving those at mobile home parks
The Salvation Army in Salinas, California, was concerned for its senior drop-in center attendees during the COVID-19 pandemic, and launched a senior meals drive-through. As the seniors' normal support for food security, the corps didn't want to see them go without.
Now the corps is also delivering, via volunteers, to 35 units at the mobile home park. The corps has offered the services to others as well, and began delivering two meals to senior program participants at another park last week.
As a thank you, a senior who lives at the mobile home park gave the Army a card that said: "Thank you so much for the food. You will never know what it means. After paying all my bills for March, I had $9.59 left for tithes to my church, food and gas for my car. To say I had nothing to eat is an understatement. My prayer is for God to return it to you 10-fold."
Another senior the corps visits keeps turtles, and the corps is now providing the extra veggies it has left over to the turtles, so she does not have to go out and buy food.
3. Delivering necessary items 
In addition to providing food, The Salvation Army has delivered additional items to seniors, including water, paper products and cleaning supplies where it is needed. 
Beneficiaries from the Riverside County (California) Adult Rehabilitation Center (ARC) packaged toilet paper to deliver to the homes of local retired officers and their neighbors. The beneficiaries rang the doorbell, dropped the items and ran, but were still caught a few times. 
In one case, a retired officer was trying to figure out how he was going to pick up an emergency prescription his wife needed. So, the group made a trip to Walgreens and returned with the medication.
"It was awesome for the guys to see just how God works," said Major Tammy Larson, Administrator for Program at the Riverside County ARC.
4. Providing emotional and spiritual care 
In addition to meeting seniors' practical needs, The Salvation Army has found ways to keep spirits high during this time of isolation. 
The Silvercrest department at Territorial Headquarters has established a "Silver Line" for residents, allowing them to call for emotional and spiritual support. Residents were notified of the line through a mailed card that will reach all of the 3,000 residents. 
"I'm hoping people can find companionship…they can ask us to pray with them or just chat with them about day-to-day stuff," said Sarah Bentley, a staff member at The Salvation Army's Western Territory Headquarters, who had the idea. "It's important they know we care about them and they're not alone." 
Throughout the territory, the Army is helping seniors by performing wellness checks by phone and email, teaching social media skills to help them stay connected, offering emotional and spiritual support as well as online shopping assistance.
5. Entertaining to combat isolation 
Administrators at the Chula Vista (California) Silvercrest hold twice weekly outdoor concerts with Music Worx from the parking lot so residents can join in from their balconies. Guided exercise also gets them moving as they stand in the fresh air and sing along.
These programs help residents combat isolation and depression during COVID-19, said Resident Wellness Director Karin Michelle Ingrande.
"The residents are delighted to get this interaction and we have huge participation as we visited each side of the building for 30 minutes," she said.
---
Do Good: 
If you'd like to make a monetary donation, please click here to make a gift.
Text 'GIVE' to 52000 to make a $10 donation to The Salvation Army. This will automatically add a one-time donation to your next mobile phone bill.
For information about volunteering, please visit volunteer.usawest.org.
To learn more about how to support The Salvation Army's relief efforts, please click here.
Download our latest Scripture series, God With Us, written from quarantine.