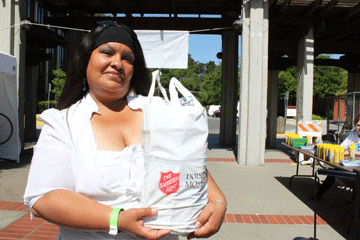 4th Annual Homeless Connect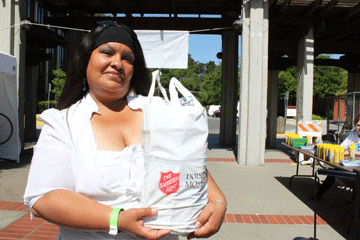 "This suit is not bad."
Theoplus Dubose-Harvey was searching for some new work clothes on Saturday. He hoped to find the right business suit for the next job interview.
"See, I got some shoes to go along with that," he said.
Dubose-Harvey believes the new attire will help change his life.  Because right now, he is unemployed and homeless.
"Times are tough, "said Dubose-Harvey, a 55-year-old former state worker. "That's why I appreciate the help I got here."
The assistance he is speaking of was the fourth annual Homeless Connect on May 21 at Sacramento City College. Dubose-Harvey was one of nearly 1,000 homeless individuals and families who attended this direct service fair.
"I'm thankful for the suit and shoes I got from here," he said. "This event shows that even under tough circumstances, I'm not alone."
More than 60 different service agencies and organizations, along with over 400 community volunteers, provided the homeless with access to housing referrals and services; health screenings, including dental and vision screenings; mental health services; Social Security benefits; HIV and STI testing; California identification cards; foot washing and haircuts; bike repairs; veterans services; legal assistance; job readiness and clothing closets.
Homeless Connect was organized by Sacramento Steps Forward.
"We're delighted that we can make difference in our community," said Tim Brown, Sacramento Steps Forward executive director. "I appreciate all of our agencies and volunteers coming together and making a difference with our homeless neighbors."
According to Sacramento Steps Forward, since January 2007, chronic homelessness in Sacramento County has decreased by 50.8%. Since January 2009, overall homelessness has decreased by 15.8%.
"It's our goal, through efforts like Homeless Connect, that we, as a community, can once and for all end homelessness," Brown said.
The Salvation Army was the presenting sponsor of the event, providing lunch, food bags and new socks to all of the event attendees.
"It's an honor to be part of the Homeless Connect event again," said David Bentley, Salvation Army Sacramento County Coordinator. "We know ending homelessness is not easy, but this collaboration of all the agencies and volunteers shows that the Sacramento community is stepping up to find that solution."
Syd Fong is the public relations director for The Salvation Army of Sacramento County.  For more information about The Salvation Army, log onto www.salarmysacto.org or join the facebook pagewww.facebook.com/salvationarmysacramento