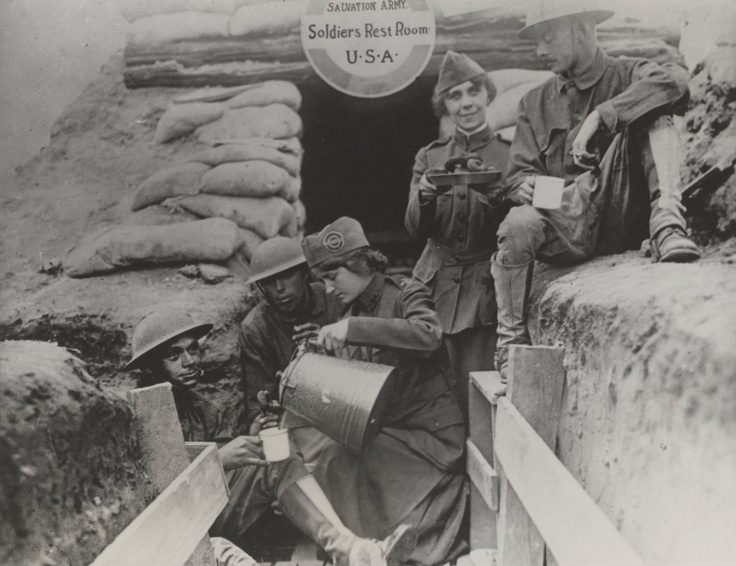 2014 National Donut Day
Sweepstakes Set to Kick-Off April 21st Includes 'Free Donuts for a Year' and Facebook Donation Campaign
The first National Donut Day was celebrated by The Salvation Army in Chicago in 1938 to help raise needed funds during the Great Depression and commemorate the work of the "donut lassies" who helped make the donut what it is today by feeding the tasty confection to American soldiers during World War I. The donuts became synonymous with The Salvation Army, as well as the American soldiers who were returning home with the nickname, "doughboys."
This significant occasion established the donut as a long-standing symbol of the services The Salvation Army continues to provide. The partnership between Entenmann's and The Salvation Army reinforces Entenmann's as a brand synonymous with National Donut Day.
In its continued support of The Salvation Army, from April 21 to June 30 Entenmann's Bakery will donate to the organization $1 for every person who "likes" the Entenmann's Facebook page (https://www.facebook.com/entenmanns), up to $30,000. Entenmann's Bakery has donated a total of $70,000 to The Salvation Army through the first three years of the partnership and plans to hit the $100,000 mark through this year's donation campaign.
"We're very excited to partner with The Salvation Army for the fourth year in a row and hit the $100K charitable donation mark with the debut of our newest flavored Red Velvet donut," said Maureen Sticco, Director of Entenmann's Marketing Services.
In this the fourth year of the partnership and in celebration of the historical day, Entenmann's will be rewarding lucky "fans" with 'Free Donuts for a Year' and additional prizes through the sweepstakes link on the Entenmann's Facebook page starting on April 21st. All entries must be received by 11:59: p.m. ET on June 30, 2014. Winners will be randomly selected from all submissions. Official Rules can be found at www.entenmanns.com.
"Entenmann's has been a terrific partner and supporter of our mission of goodwill and we look forward to making the 2014 National Donut Day the best one yet," said Major Ron Busroe, National Community Relations and Development Secretary for The Salvation Army.
National Donut Day Fun Facts:
The Salvation Army:
National Donut Day commemorates the "donut lassies," female Salvation Army volunteers who provided writing supplies, stamps, clothes-mending and home-cooked meals, and of course, donuts, for soldiers on the front lines.
With limited resources, these treats were fried, only seven at a time. The Salvation Army's Ensign Margaret Sheldon and Adjutant Helen Purviance cleverly thought of frying donuts in soldiers' helmets.
Approximately 250 Salvation Army volunteers provided assistance to American soldiers in France starting in 1917 during WWI.
In 2013, 30 million Americans received assistance from The Salvation Army's 3,600 officers, 60,000 employees and 3.4 million volunteers.
Entenmann's Bakery:
With donut bakeries in Carlisle, Pennsylvania and Montebello, California, Entenmann's produces more than 780 million donuts a year, which equivalents to 15 million donuts a week and more than 100,000 donuts every hour to keep up with the demands of Entenmann's donut lovers nationwide.
The Rich Frosted Donut has been the #1 seller since its introduction in 1973.
Entenmann's produces a number of varieties of donuts and Pop'ems each year including Cinnamon and Snickerdoodle Pop'ems and Devils Food Crumb Donuts to seasonal varieties including Halloween Rich Frosted Sprinkled, Harvest Pumpkin Donuts, Holiday Pop'ems and Rainbow Pop'ems.
In the early '50s, Frank Sinatra used to call the Bay Shore bakery to place weekly orders from Entenmann's.
Republished from The Salvation Army USA
Grab a free donut today:
Entenmann's – Enter to win free donuts for a year, among other prizes.
Krispy Kreme – One free donut, no strings attached.
Shipley Do-Nuts – One free donut and one free small coffee.
Dunkin' Donuts – One free donut with purchase
Please visit participating stores website for more information and restrictions.
Not near any of these bigger chains? Find a local doughnut shop near you with this interactive doughnut map from Hopper.