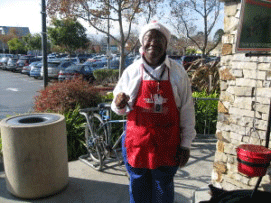 $10,000 check inserted into Menlo Park Salvation Army kettle
Donor plays Secret Santa to troubled Salvation Army program.
A Salvation Army bell ringer received a surprise donation that will surpass her individual collections for the entire season: An anonymous donor inserted a check written for $10,000 into her kettle while she stood and greeted customers outside the Safeway on El Camino Real in Menlo Park. This comes just three days after another anonymous donor dropped a $5,000 donation into a Salvation Army kettle at the Safeway at Sequoia Station (Redwood City, Calif.).
"This is a tremendous blessing," said Bonnie Miller, business manager for The Salvation Army's Redwood City Corps. "It's been a difficult year and we were prepared to enter 2012 facing some possible budget issues. Thanks to these two very generous gifts, we're going to start the year off on a good note!"
The annual Red Kettle Campaign started as a fundraiser by Salvation Army Captain Joseph Mcfee in San Francisco in 1891. Since that time, the Red Kettle Campaign has grown into one of the most recognizable and important charitable campaigns in the United States. As part of the campaign, more than 25,000 Salvation Army workers and volunteers spread throughout the country to ring bells daily and solicit spare change donations to the iconic red kettles from holiday shoppers. In 2010, the campaign collected a record $142 million nationwide and over $52,000 in Redwood City and surrounding communities, supported by the public's nickels, dimes, quarters, dollars, credit cards and helped The Salvation Army serve 30 million people in communities where the money was raised.
About The Salvation Army
Since 1960, the Redwood City Corps has provided social services in South San Mateo County to men, women, children and families in need. In addition, the Army also provides disaster relief services. For more information on Salvation Army activities in San Mateo County, visit online at: www.SalvationArmyRedwoodCity.org