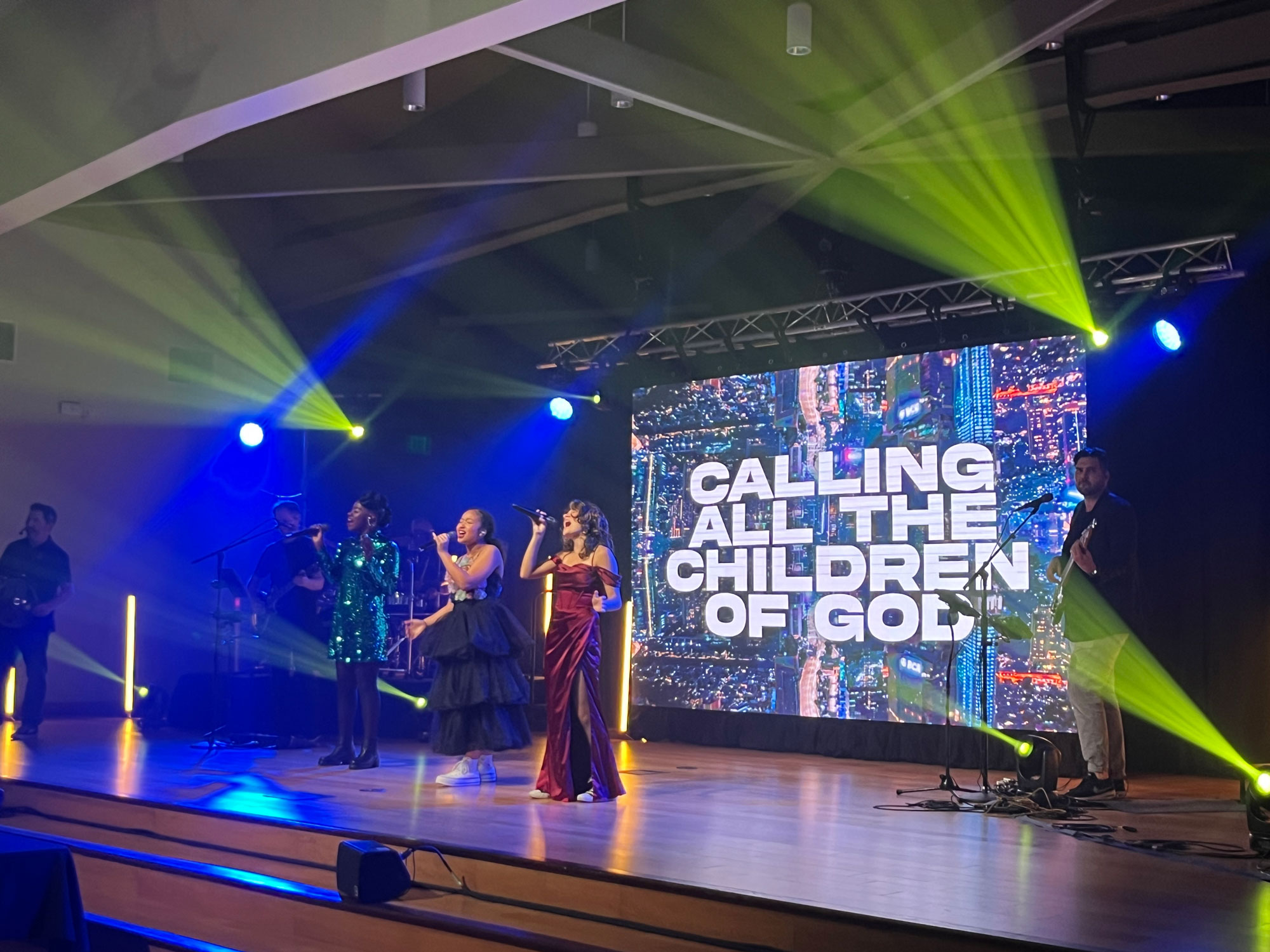 Youth shine at The Salvation Army "Share Your Voice" singing competition grand finale
Torrance Corps hosts the premiere event, aiming to give youth professional music opportunities.
For the three finalists of the Ralph Moore Jr. Memorial Share Your Voice competition—Leanne Flores, Makara Gamble and Righteous Woods—this was the night they'd anticipated, the Nov. 9 finale concert at The Salvation Army Torrance (California) Corps. While each finalist gave it her all—leaving the judges with a difficult choice—14-year-old Makara Gamble claimed the grand prize with her rendition of "Listen" by Beyoncé.
Emcee Vince Ferragamo, former quarterback for the Los Angeles Rams, kicked off the event after an opening song, "Hold Up The Light," featuring Ray Sidney, Shalini Danielson, the three finalists and a Salvation Army brass ensemble.
"What a great song and a great challenge to all of us to be a light in our community," Ferragamo said. "Tonight is a celebration—a celebration of youth, a celebration of music and a celebration of community."
The Torrance Salvation Army, with the on-site Hunt Recording Studio and DBMix Productions, hosted the competition to encourage and empower young singers, believing they deserve to have their voices heard and to make a difference for good in their community. From the initial pool of video auditions, 12 semi-finalists came to the Torrance campus for a live audition. From these, the judges selected the three finalists.
Ferragamo introduced the four judges: Danielson, worship specialist for The Salvation Army Southern California Division; Merritt Huff, vocal coach and singer-songwriter; Tommy Walker, worship leader and composer; and Dan Blessinger, Grammy Award-winning engineer/producer and executive producer of Share Your Voice. He also acknowledged Priscilla Hunt, whose vision and financial support made the Hunt Recording Studio a reality.
A surprise video message followed the opening prayer from Torrance Corps Officer Major Tim Smith. In it, James Corden, host of "The Late Late Show," greeted the finalists by name, wishing them luck and encouraging them to dare to dream.
After video segments introducing each finalist, they presented their solos: Leanne performed first, singing "Feeling Good" by Michael Buble, Makara followed with "Listen," and Righteous concluded the solos with "Higher Ground" by Stevie Wonder.
While the judges deliberated, special musical guest Thunderstorm Artis, a finalist on season 18 of NBC's "The Voice," sang his songs "Stronger" and "My Story," and spoke to the finalists.
"When I was a kid around your age, I didn't have an opportunity like this," he said. "Things like this can make a huge difference in lives…I've been on a stage like this, standing in front of judges, and the important thing to remember is that there's also life after this and it's about the journey…keep with it, keep God as your focus and there's nothing in the world you can't accomplish."
Each finalist received equipment for a home recording studio, including an Apple Macbook Air Computer and a Roland keyboard. Grand prize winner Makara won the opportunity to record with DBMIX Productions at the state-of-the-art Hunt Recording Studio.
Representing The Salvation Army during the event were Western Territorial Commander Commissioner Douglas Riley, Southern California Divisional Commander Lt. Colonel Mike Dickinson, and Torrance Corps Officer Major Tim Smith.
Blessinger thanked everyone involved with making Share Your Voice a reality, especially Priscilla Hunt and her family.
"I want to thank you from the bottom of my heart for your generosity, and for trusting us to design and build the world class Hunt Recording Studio and Crescendo Music and Dance Academy," he said. He spoke about Hunt's late son, Ralph Moore Jr., who was a singer and music lover.
"He's not here with us tonight, but I believe he's watching us from above and I think he's proud of what we've done here," Blessinger said.
Along with members of The Salvation Army, the audience included family and friends of the contestants and music industry professionals. For those unfamiliar with the scope of The Salvation Army's services, Dickinson spoke about what the organization does in the South Bay to help those in need, particularly at the Stillman Sawyer Family Services Center in Harbor City.
"We also do some things that you wouldn't expect," he said. "Who knew The Salvation Army had a school of music and a recording studio? Who knew that we would put on an event such as this? Because, you see, The Salvation Army is not just about helping with physical needs. We want to serve the whole person: emotional, mental, physical, spiritual. On this campus, The Salvation Army provides programs that encourage and inspire young people to discover their gifts."
That's what Share Your Voice was all about.
When Priscilla Hunt and the Hunt family funded the Torrance Corps' transformation, their dream was to give young people the opportunity to develop their talents and have the opportunity to record in a professional recording studio. With the success of Share Your Voice, the goal was realized, and plans are underway for the 2024 Share Your Voice competition.
"Singing means a lot to me," Makara said. "I am on a journey to find myself and realize that music, singing and performing are ways I'm able to give to my community," she said as she thanked Share Your Voice for helping her realize her potential.
Douglas Riley closed the evening in prayer, asking God to continue to bless Makara, Righteous and Leanne, and that as they move forward, they bless others through their music.
---
Do Good:
You've probably seen the red kettles and thrift stores, and while we're rightfully well known for both…The Salvation Army is so much more than red kettles and thrift stores. So who are we? What do we do? Where? Right this way for Salvation Army 101.