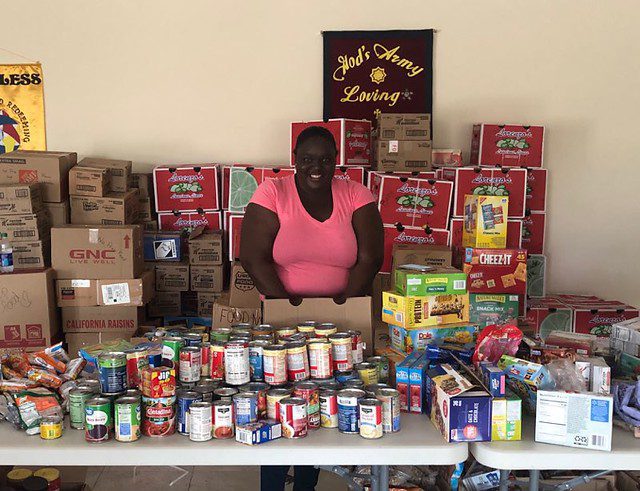 Young Bahamian recounts experience of Hurricane Dorian
As the biggest storm ever to hit the Bahamas loomed in the Atlantic Ocean, 16-year-old Akeem Cooper was helping others. A junior soldier in The Salvation Army, he was assisting Corps Officer Major Hendrik Sumter to batten down the organization's Freeport premises on Grand Bahama.
"I was over at the corps hall helping board up the windows, but I eventually had to leave to go home and help my mother and siblings secure our home," he said.
As the weather conditions deteriorated, Cooper's thoughts turned to his family. "My neighborhood was quiet and my family and I were getting anxious. That's when I sent a text to Major Hendrik to ask if he could pick us up and take us to the nearby shelter. It was around 11:15 a.m.," Cooper said. "The major said he would give us an hour to prepare." 
After Sumter dropped off the Cooper family at the shelter, Akeem Cooper and his brothers Joshua, 17, Lamah, 15, Tamal, 8,  and his mother, went through the registration process. Anyone staying at a shelter on Grand Bahama was required to bring their bedding, food, and water, so the Coopers took what they could to pass the time—expecting a short-lived ordeal.
"By 8 p.m. [on Sept. 1] we started to feel the winds and it started getting louder," Cooper said. "We couldn't see outside but there was still electricity inside so we felt okay."
As the night progressed, the Category 5-rated Hurricane Dorian made its way inland from the east of Grand Bahama, but moving very slowly. Cellular telephone service was still available across most of the central and western part of the island, so there was still some way to communicate with family and friends.
At about midnight, the hurricane seemed to stop its westward track entirely and hovered over much of the island. The National Hurricane Center reported that at this point the eye of the storm was about 23 miles wide and spanned in excess of 45 miles wide. Putting this into context, Grand Bahama is only 17 miles across from its widest point north to south. Traveling at a speed of just one mile per hour—and sometimes standing still—made Hurricane Dorian one of the most dangerous to hover over one spot of land for an extensive period.
While tropical storms are common in the Caribbean, Cooper said, "I've never been through a hurricane this bad and for so long! Almost two days of wind and rain…and of being in the dark with no electricity, no running water, dead cell phone and portable chargers, and overflowed sewage as the shelter began to flood." 
Everyone who sought refuge in the shelter, including Cooper and his family, had to move to an upper floor. "I knew as a Christian I had to trust God, but not knowing what will happen is fearful," he said.  
Conditions in the shelter began to deteriorate, and by late afternoon Sept. 3 Cooper's mother decided she wanted to return home. Even now, the winds had not yet fully subsided and, reluctantly, Cooper escorted his mother and two younger siblings on the walk home. As they entered the gate to their home, a neighbor shouted out to them that the water was as high as five feet, and when they entered their home it was still under around 18 inches of water. His brother Joshua had remained at the shelter to watch over the little they had taken with them, so after leaving his mother and brothers at home, Cooper returned to the shelter on foot. 
"The winds were still heavy and a tree branch blew and hit me in my back," he said. "I didn't see it coming because it came from behind." 
On Sept. 4 afternoon, Joshua and Akeem returned home. They were survivors of one of the most devastating hurricanes that ever crossed the Bahamas and in particular the Grand Bahama Island. The nearby Abaco Islands were hardest hit and recovery will take a long time—perhaps several years. Because Nassau, the capital city located on the island of New Providence, was less affected than other parts of the nation, the Bahamian government has offered free passage there to anyone willing to relocate. But Akeem and his family have decided that Freeport will remain their hometown. 
While the waters have receded, homes and businesses across the islands have been destroyed. But Cooper showed up again at Freeport Corps along with three friends to offer assistance. He knows survivors will come to The Salvation Army for support.  
"I love helping other people, he said. "I'm glad for the opportunity to serve." 
Originally published on Salvation Army International. For more Hurricane Dorian updates, visit sar.my/dorian.