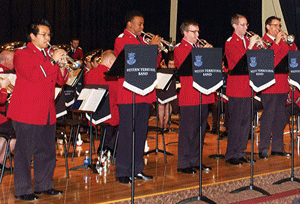 WTB—on the road again
'Brass Bash' weekend hits Salem.
Musical and practical ministries—these were goals for the Western Territorial Band's (WTB) first outing of 2011, held Jan. 6-9 at the Salem (Ore.) Ray and Joan Kroc Corps Community Center. Bandmaster Neil Smith, territorial music and worship development secretary, is the band's director.
During this "Brass Bash" weekend, the band's ministry included outreach on Jan. 8, with musical workshops—free and open to the community. Breakout topics included soloing, orchestral reading, contemporary brass and breath control; individual lessons were available and two massed band rehearsals took place.
"The Western Territorial Band is much more than a bunch of musicians; we are a ministry team," Captain Matthew Madsen, band member and Southern California divisional youth secretary, said.
The concert opened with several cornet and trombone players featured in front of the band during Handel's "Royal Fireworks Suite—La Rejouissance," after which the entire group stood to perform a vocal arrangement of "Be Still" with piano accompaniment.
Following a time of devotion, the band continued with "Praise My Soul," "Hallelujah," "I Will Wait" and "How Great Thou Art," followed by "South Shields Celebration."
Just before intermission, the band debuted "Triumphant," written specifically for the WTB by James Allen, California State University Long Beach music student and Pasadena Tabernacle corps member.
The second half of the concert featured "Lowell Anniversary," "They Could Not" and "In Good Company" paired with "Lord, I Lift Your Name on High" and followed by "Light of the World."
Dean Goffin's musical meditation of Christ knocking at the door—inspired by the painting Light of the World by William Holman Hunt—featured the cornet section on the first tune, "O Jesus Thou Art Standing Outside the Fast Closed Door," and the horn section on the second tune, from "Behold Me Standing at the Door."
Following a devotional on "Christ, the Light of the World" by Lt. Colonel Ron Strickland, executive officer for the WTB, the band concluded the evening with Peter Graham's "Seize the Day."
A special worship service on Sunday morning combined both the English and Hispanic congregations.
A highlight of the morning was when Smith invited Lars Lignell—Salem Corps bandmaster of 35 years—to the stage to lead the WTB in "The Healing Waters." Territorial bandsman Ralph Pearce wrote the piece in honor of Lignell.
The band sang, "When Jesus Looked Over Galilee." Bandsman John Opina played an arrangement of Leonard Ballantine's "Don't Doubt Him now."
Major Warren Dabis, Tacoma (Wash.) corps officer, began the praise and worship segment with a slow rendition of "The Doxology," then led into "Forever" by Chris Tomlin. He closed the set with "Mighty to Save."
Following the band's selection "Wonderful Healer" (Goffin), Strickland brought the message, based on Matthew 6:25-34, titled "The Sin of Yrrow"—"worry" spelled backward. The band's postlude was the march "Cairo Red Shield."
Compiled from information received from Laura Foley, Tom Ferrin and Chad Ingram