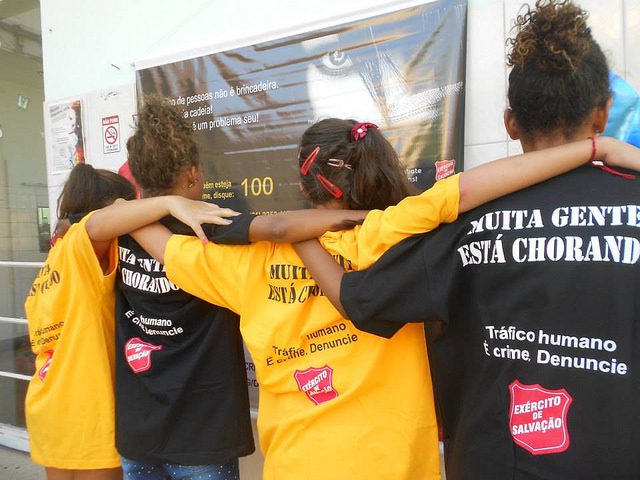 Salvation Army teams arrive in Brazil
2014 FIFA World Cup
By David Giles –
Mission teams from North America, Europe and Australia will boost The Salvation Army's teams in Brazil during the 2014 FIFA World Cup June 12-July 13. The 60 volunteers of various nationalities will be present at eight of the 12 host cities to help local Salvation Army teams communicate effectively with soccer supporters from around the world.
The primary objective is to share the gospel message with fans, as well as to share testimonies and be a friendly, approachable presence for supporters who are thousands of miles away from home. The arts will be used to good effect, particularly in Rio de Janeiro and São Paulo where the Southern California Youth Band will minister, accompanied by a Creative and Theater Arts team from the Western Territory.
Ahead of the World Cup, The Salvation Army's Brazil Territory held events to highlight the presence of human trafficking, taking to streets with young people wearing barcodes around their necks and carrying banners asking: "What is the value of your silence?" in Portuguese. A study by a Brazilian parliamentary commission reveals there has been an increase in child prostitution and sex abuse in the vicinity of the Itaquerao Stadium that will host the World Cup opening ceremony June 12.
To help combat this, The Salvation Army will run an awareness campaign on the busy São Paulo Metrô, which provides the main public transport link to the stadium. A series of posters on board the trains will highlight the issues of child labor and sexual exploitation, supported by team members wearing specially branded shirts.
Volunteers will also distribute a special bilingual edition of The War Cry—Rumo!—that was  produced for the World Cup. As well as words of welcome from Brazil Territorial Commander Commissioner Oscar Sánchez, the publication features a personal testimony from Lúcio, a defender in Brazil's 2002 World Cup-winning team.
"I am so grateful to God for so many talents and gifts and that I can play in such a great team with so many really gifted players," he wrote. "But my own personal way to happiness and contentment came only through doing what the Bible says: Give yourself to the Lord; trust in him and he will help you (Ps. 37:5). Jesus is that Lord and you can go that way with him too. If you trust Jesus, you have the chance of gathering in the greatest victory possible in life."
Elise Belcher, from a Salvation Army corps in London, is using vacation time to volunteer with the team.
"I'm excited to be hanging out with corps in Recife and Rio, to see how they're engaging with their communities and to help where I can," she said. "It should be a lot of fun and a great opportunity for outreach. Sports activities are an amazing opportunity to build relationships."
The Salvation Army's Sports Ministry Coordinator for Europe, Lt. Colonel David Bowles, will be with the mission teams in Brazil. He is keen for the Army's activities to be firmly rooted in prayer: "Pray that the Holy Spirit will equip each of us as we share true victory in Christ Jesus during this very special campaign."