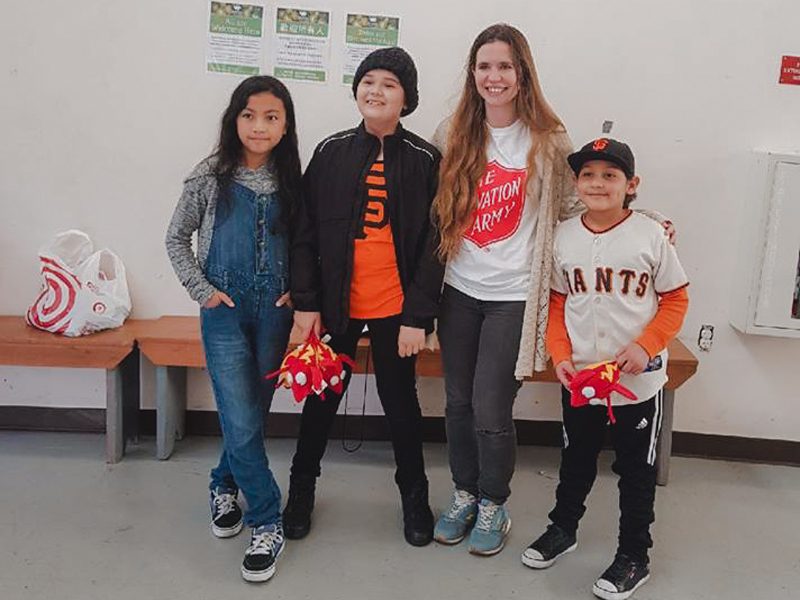 Why I love my work
God has sent me a way to connect with him in the easiest way possible: by playing and laughing with children.
Last year, I stumbled into a job without knowing what I was getting myself into. I didn't have any experience with The Salvation Army but I knew I needed a change. I needed to reset myself spiritually and as a woman who works.
It has been more than a year since I started in the children's program of The Salvation Army Mission Corps. It is located in a yellow chapel tucked away on Valencia Street, only a few blocks from the heart of the Mission, San Francisco's colorful Latino district. I remember my first day, knocking on the large wooden doors and walking down a staircase into a bright room filled with children.
The world inside that room contrasted greatly with the outside. The news of politics and violence are what we talk about in our adult worlds everyday. They are necessary to acknowledge but this program became my refuge from some of it. The moment I walked into the children's room for the first time, my perspective reverted back to that of a child.
The children I work with have deep roots in all of Latin America: Guatemala, Nicaragua, El Salvador, Honduras, Mexico and Cuba. They spend their weekdays at a nearby elementary school where they take classes in English and Spanish. They are learning to read and do math problems in both languages. These children will bridge more of the gaps in communication between the U.S. and Latin America not only because of their language skills, but because they are smart.They are in tune with their emotions. They make me think and laugh and feel.
There are muddy cleats, tangled hair and a box of bandaids always on standby. Some days we transform the homework room into a place where we can just hang out and be. We talk about bullies and emotions. We talk about God and what love means. We color with crayons every color of the rainbow and read hardcover picture books like "Elephant & Piggie." Whatever the biggest news headline is at that moment doesn't matter, we are wondering if Mr. Elephant is going to finally share his ice cream with Mr. Piggie.
We play soccer in the gym to get energy out. We dive and fall over each other trying to get the ball. More than once I have arrived home in the evening to find my legs covered in bruises. We treat these soccer games as if we were in the World Cup. The boys dream of being soccer stars, they root for Real Madrid and tell me they want to be on high school soccer teams. I encourage them to dream big.
I help a little girl in kindergarten with big, brown eyes and a ponytail sound out her sight words: what, who, they, love, and she starts clapping her hands and giggling at that last word. "Teacher! It says 'love'! Amor!" and she keeps giggling because that word makes her happy.
In the early evenings, the parents trickle in to pick up their sons and daughters. These parents work in various professions: construction, nursing and sales, among others. They have long days and are often still in uniforms. They ask how their child is. They ask me if I can help their child with their English vocabulary because many of the parents speak Spanish and their English isn't as strong.
They are aware that their children are going to have an advantage being bilingual. They work so hard to raise their children so they can reach their full potential. It's been wonderful to be so close to that kind of selflessness and unconditional love. To watch it in action. "I want my children to have more opportunities than I did" is something I hear all the time. Love is so present here.
Love. I can honestly say that I love this work. Even on the days when I am literally dripping with exhaustion. I have always questioned my relationship with God. What does it look like? What do I believe? I doubt, believe and doubt and believe. This has been my process, but one thing that has always remained constant is my belief in love. Dios es amor.
God is here with me in this work. That much I know. God has sent me a way to connect with him in the easiest way possible: by playing and laughing with children, and that makes me feel like the luckiest girl in the world.