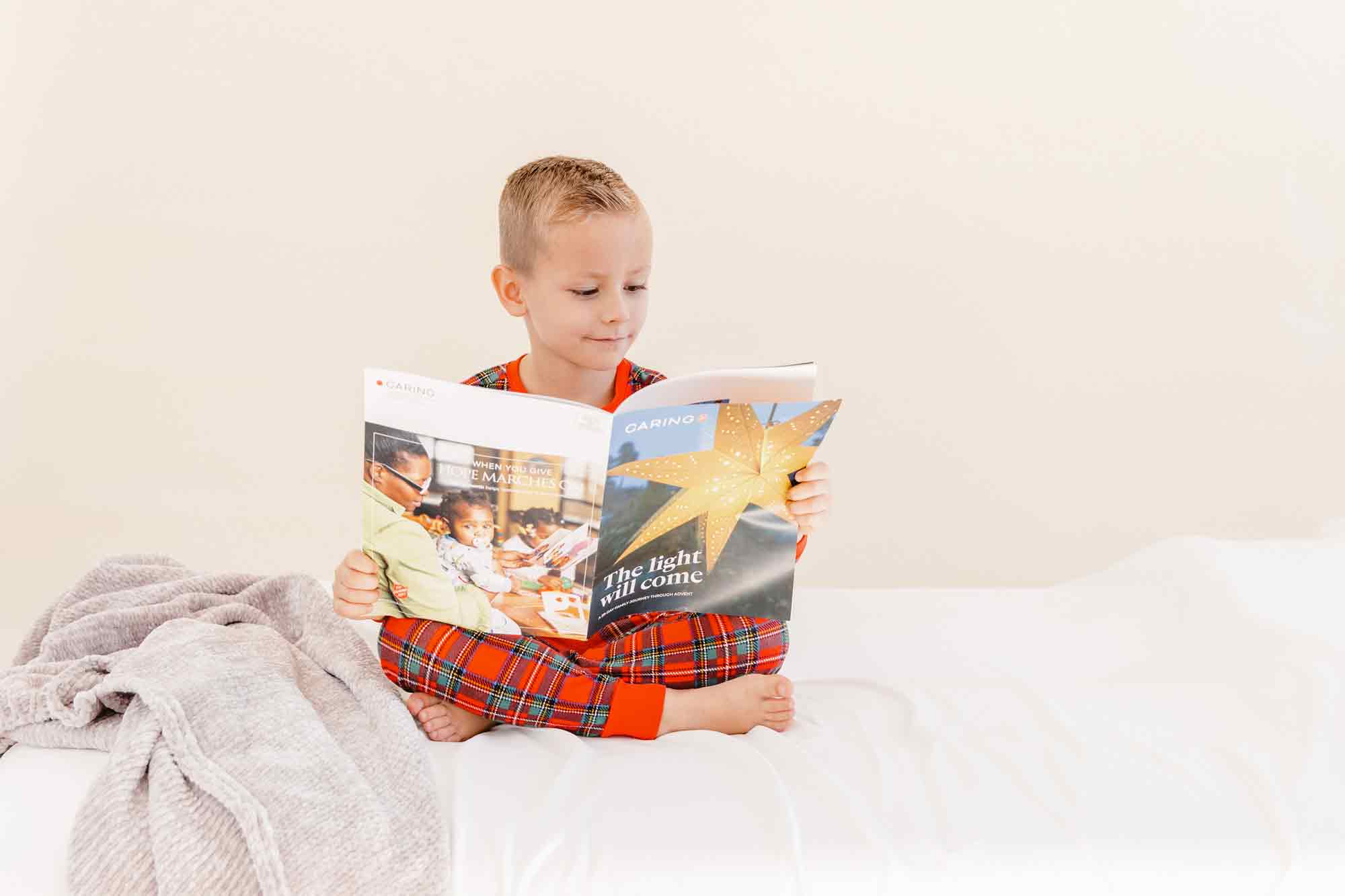 What to know about Advent week 3: Jesus is joy
A Scripture study from Caring, part three of four.
We learned last week about the night the angel appeared to the shepherds proclaiming the Good News of Jesus' birth. The angel told the shepherds not to be afraid; their announcement would cause great joy for all the people (Luke 2:10). What a promise!
Joy is a funny word. We often hear it described as happiness. But joy is different. Joy is not based on our circumstances—whether we got an A of an F on our math test or had our favorite dessert after dinner or no dessert at all. Happiness is a fleeting feeling, but joy is found deep within.
We are happy when things go our way, when we get what we want and when we don't have to do things we don't like (like washing the dishes and taking out the trash!). Joy exists even when things aren't perfect or as we'd choose. Joy stands up to bad moods and bad days. Joy is rooted in gratitude—a heart that is thankful for what it has, not sad for what it lacks. Joy surprises us by rising above the surface of our feelings. (God gave us feelings and feelings are a good thing, but they aren't everything.)
Simply put, joy comes from Jesus. Jesus isn't wishy washy like our feelings. Scripture says he will never leave nor forsake us, so even on our worst days or ugliest moments Jesus is with us, helping us, and reminding us that he is good!
The Good News of the gospel is wrapped up in the life of Jesus. God sent his son to fix what had become broken back in Eden. Remember Adam and Eve? Recall the moment they disobeyed and how it shattered the gift of perfect peace God had given them? Thousands of years and moments passed where God would work tirelessly to make himself known, trusted and loved by his people. History holds a collection of stories of all kinds…each pointing to the truth that God was loving, compassionate and his purposes unstoppable. When we find agreement with what God did to make a way for us to know him we receive joy that lasts forever.
While Jesus came to Earth as a baby, an important part of God's plan would lead to Jesus his death. God knew Jesus was the only, perfect sacrifice for our sin. Just like the people of the Old Testament were required to offer sacrifices to be made clean from their wrong doing, Jesus became the sacrifice.
God knew people could not offer anything that could fix our brokenness—but Jesus could.
Jesus took on every ugly, deceitful, shameful, selfish, prideful and broken part of us. He died for us and rose back to life three days later, showing that God's power to overthrow sin and death was real, was for everyone and would enable us to do the same: We can overthrow every deceitful, shameful, selfish, prideful and broken part about us if we believe in what Jesus did for us.
Joy is rooted in this reality: Jesus freed us from sin.
Come, let us sing for joy to the Lord;
let us shout aloud to the Rock of our salvation.
2 Let us come before him with thanksgiving
and extol him with music and song (Ps. 95:1-2).
Read About It
Scripture helps us understand the character and nature of Jesus. When we cling to all of who Jesus is, it can become easier to hold onto our joy. Read the verses below and identify each characteristic of Jesus. What other verses or stories come to mind that help us see who Jesus really is?
Scripture Verse: When he saw the crowds, he had compassion on them (Matt. 9:36).
Characteristic of Jesus: Compassionate
Scripture Verse: But love your enemies, do good to them, and lend to them without expecting anything back (Luke 6:35a).
Characteristics of Jesus: Kind, Generous
Scripture Verse: See the story of Jesus washing his disciples' feet in John 13:1-5.
Characteristics of Jesus: Humble, Servant
Scripture Verse: Bear with each other and forgive one another if any of you has a grievance against someone. Forgive as the Lord forgave you (Col. 3:13).
Characteristic of Jesus: Forgiving
Scripture Verse: Follow God's example, therefore, as dearly loved children and walk in the way of love, just as Christ loved us and gave himself up for us a fragrant offering and sacrifice to God (Eph. 5:1-2).
Characteristic of Jesus: Loving
Scripture Verse: But just as he who called you is holy, so be holy in all you do; for it is written: "Be Holy, because I am holy" (1 Peter 1:15-16).
Characteristic of Jesus: Holy
Talk About It
1. How can trusting in who Jesus is help us have joy?
2. How do you think it felt to be there the night Jesus was born?
Pray About It
Take time to pray God would produce real joy in your life. If you have any concerns that may be keeping you from experiencing joy that comes from knowing Jesus, pray about those things. God hears you.
Excerpted from The Light Will Come: A 28-Day Advent Journey for Families. It's not too late to join! Get on the list now and start following along today for a simple, meaningful Advent celebration with your family. Plus, you'll get the Do Good Digest—weekly inspiration sent right to your inbox.
---
Do Good:
If you're longing for a simple, unhurried approach to the season, you're in luck. Get our free guide—The Light Will Come: A 28-Day Advent Journey for Families from Caring Magazine—and follow a simple day-by-day plan to an unhurried and meaningful approach to the season.
Follow us on Instagram and engage in the Advent journey with us using #caringadventjourney.
You've probably seen the red kettles and thrift stores, and while we're rightfully well known for both…The Salvation Army is so much more than red kettles and thrift stores. So who are we? What do we do? Where? Right this way for Salvation Army 101.