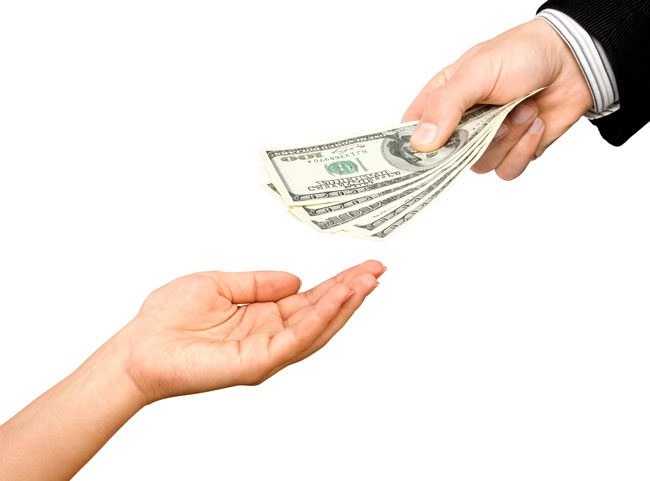 What gives?
Charitable giving in the U.S. tends to reflect the economy, but sometimes, savvy fundraising can trump even the worst economic woes.
By Jared McKiernan –
Ask any nonprofit employee who's done fundraising and they'll tell you––it's hard work. Doing it during an economic crisis, however, is an entirely different beast.
"Nonprofits are facing a more unsettling fundraising terrain than they've faced in many years," said Dr. Jason Franklin, CEO of Bolder Giving, an organization that encourages people to increase their charitable donations. "Changes in giving can either lead or lag behind economic trends. As you start to hear uncertainty about the market or as the market goes down, giving falls but as the market recovers, giving generally recovers a little more slowly than the market because people are still adjusting to the fact that things are better economically."
Dorrit Ragosine is co-founder of Social Change Public Relations & Marketing, which specializes in cause marketing for charitable organizations. She said a weak economy can task organizations with a series of obstacles she called a "triple-edged sword." First, individuals––who account for 72 percent of all charitable contributions––are less apt to retain their levels of giving. Second, the government can can slash its funding to nonprofits. Lastly, more struggling Americans increases the demand for services of charitable organizations like The Salvation Army.
U.S. giving to charities totaled $316.23 billion in 2012, according to a report by the Lilly Family School of Philanthropy at Indiana University. After adjusting for inflation, that's a 1.5 percent increase from 2011, but an 8 percent decline from 2007, the year the nation went into recession.
Some areas rebounded economically. Others struggled. Then, there's Detroit.
According to the U.S. Department of Labor Bureau of Labor Statistics, of the 50 largest cities in the country, Detroit has the highest unemployment rate, at 23.1 percent. Once a bustling automobile manufacturing hub, Detroit filed for the largest municipal bankruptcy protection in U.S. history in July 2013 after accruing $18.5 billion in debt.
Since 1990, the city has shrunk by 32 percent, losing more than a quarter of a million people.
It would stand to reason that these conditions would stymie even the most prepared charitable organizations. Yet, as Detroit's economy struggled more than ever, The Salvation Army of Metro Detroit netted $8.8 million in its 2013 Red Kettle Christmas Campaign––its highest ever.
The success comes in a year in which many Salvation Army locations fell short of campaign goals. This year's national Red Kettle Christmas Campaign collected approximately $136 million, down from more than $148 million in 2012.
How is it possible for charities to soar amid a flailing economy?
A fresh approach, said Don Cooke, senior vice president of philanthropy at the Robert R. McCormick Foundation in Chicago. You can only emphasize to donors an increase in demand for your charity's services so many times before "the well's going to dry up," he said.
John Hale, chief operations director of development in The Salvation Army Eastern Michigan Division, coordinated much of that record-breaking campaign, which helps fund the cost of providing meals, lodging, utility assistance, free legal aid and other programs. He said it's difficult to pinpoint just one tactic or strategy that made the difference, but specificity was a common thread throughout the campaign.
"We thought we were pretty good, but this year we really mapped everything out," Hale said. "We were more strategic. We absolutely just begged with advertising and [public relations] and we were just ultra aggressive with all of our efforts."
Hale said the division's main donor is the 45-64-year-old female, many of whom are familiar with The Salvation Army through its presence in World War II. Since they grew up implicitly trusting The Salvation Army, Hale said, their support is more reliable. And so the team placed more focus on engaging younger generations, who are increasingly making their way into the city.
The division worked with Franco Public Relations Group and Summit Marketing to revamp its digital strategy. Starting in September 2013, it engaged in more Facebook advertising, and paid more attention to each individual social media platform.
"What are we going to say in the morning, afternoon and evening on Facebook?" Hale said. "What are we going to say on Twitter that's going to be a different approach? How are we going to use Instagram? We really wanted to engage the community and not talk at them. Once we drew them in, then we could tell them about the Kettle Kickoff and that kind of thing."
The division grew its Facebook likes from 1,800 in September to more than 13,000, which helped accrue $100,000 on New Year's Eve—one of the most lucrative donation days of the year. Pair its revamped digital strategy with a systematic approach to traditional fundraising, and you have a winning combination.
"We had several thousand less direct mail donations and yet [donations] were much higher and that was because the people that could give gave at a much higher rate," Hale said. "In the past, if 10 people give $25, one or two of those people may have moved out of Michigan because of our economy but those eight or nine who did give gave an extra $20. It was really incredible to see that the average gifts went up quite significantly."
Further, relationships within the community proved as helpful as ever for Detroit as numerous local companies—including the Detroit Red Wings, Bank of America, WOMC 104.3 FM and Quicken Loans, whose employees brought in $27,000 in a single hour—served as bell ringers and contributed cash or other support to the campaign.
Cooke said it's important to note that a bad economy is not an omen for charities, but rather just another challenge. Lessons learned: be bold, know your audience and pay attention to detail, and it's possible to not only stay afloat, but thrive in trying times.
As Hale said, "Sometimes when you're in adversity, good things can come out of it."