What experiencing homelessness taught me about having plans
'God's plan are always better than our dreams.'
Joey Zumaya had it all—a family, house and career. He and his wife, Jessica, had married young and quickly. But early on in their marriage, Joey found himself lost.
"I was going through the thick of changing as a person as a result of my success and earning money that I never had before," he said. "I didn't necessarily know how to deal with that really well. I wanted more of it."
His focus shifted to his own wants, instead of the needs of his family.
"It was acceptable that as long as I was around and providing for them that it was OK to pursue my own ambitions and not doing the things that I should have been doing as a husband and as a father," Joey said. "That resulted in [me and my wife] fighting a lot and deciding on divorcing."
After his choices broke his family apart, they started affecting his performance at work, too.
"I was going out and I was partying and I was drinking. I was doing things that made me feel temporarily better for myself, but after I had done them they made me feel worse," he said. "My employer couldn't overlook the things that I was doing."
In one week, Joey found himself unemployed and homeless. "With nothing to my name and nowhere to go, I was at rock bottom and at the end of my rope," he said.
But he came across The Salvation Army in Ventura, California, where he secured temporary housing for himself and his oldest daughter, Elaine—who was living with him—at its Transitional Living Center.
"Having to sit there across from her in a really teeny, tiny room and look her in the face and see disappointment and fear was one that I'll never forget for the rest of my entire life," he said.
He then made a commitment to Elaine, promising her that they would attend every church service and Bible study possible.
"I knew that the only thing that could bring me back to where I need to be is God," Zumaya said.
A staff member at the Transitional Living Center told him about The Salvation Army's church services. And Lieutenant Fabio Simoes, Salvation Army Ventura Corps Officer, picked them up to bring them to church.
"I had a lot fear. I was coming here from a place of failure and that was a big problem for me for long time was my pride," Zumaya said. "Losing everything for me was a catalyst to be broken enough. God was calling me out that if I continue down the path I was in, I was just going to have more of the same. And so the Holy Spirit told me that I had a decision to make."
That decision changed his entire life.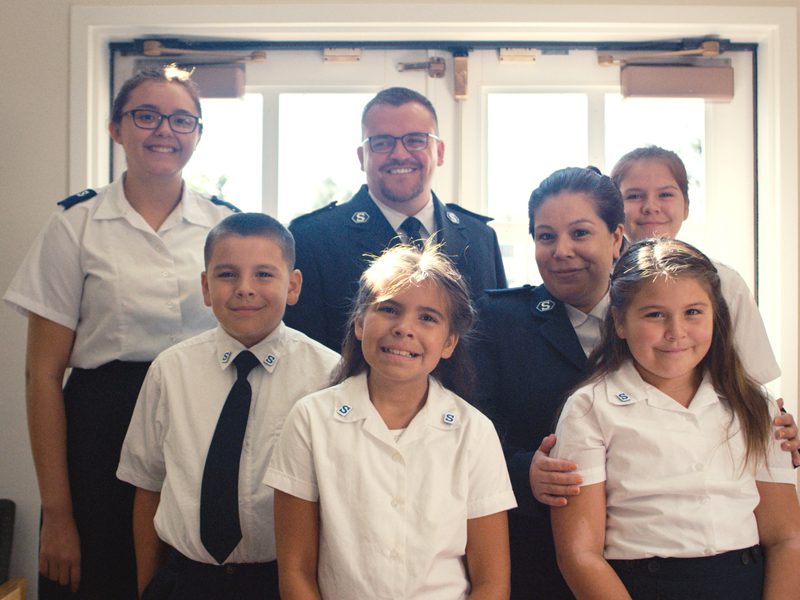 "I went from being afraid to being confident, depressed to being happy, and broken into being whole," Zumaya said. "It was at that point where my daughter saw that change in me that the restoration of our relationship began."
Once he and his daughter were back in church and their relationship was on the mend, Zumaya knew he needed to make amends with the rest of his family.
"Out of anyone who saw all the hurt from what I had caused in my family, it was my ex-wife," he said. But they agreed to get along, and that Zumaya would start taking the two older kids to church, too.
"The kids quickly adapted to church. They loved it," Zumaya said. "That started chipping away at [my ex-wife's] heart because she's seen a transformation in her children from being ones of, 'Yeah, we were just with dad and he was bad,' to, 'Mom, you should have seen how cool it was today.'"
The kids began inviting their mother to church, and this opened up the opportunity for Zumaya and Jessica to really talk one day about the kids and each other.
"Our hearts were softened from how hard they were out of all of that hurt and mistrust," Zumaya said. "Those conversations changed into, 'What do you think about the future? What are your plans and what's going on?'"
And they found themselves dating again.
"I said, 'Do you think that what is happening and I think is happening, is happening?'" Zumaya said "And she says, 'I think it might be happening.'"
When Zumaya got that answer, he looked over at his wife one day during a church service and asked her to marry him again.
"In two days we threw together a ceremony, and we went from being a scared, broken and separated family to actually coming back together but not in the same way we were before," Zumaya said.
He said life was better than ever.
"I don't use the term restoration because my wife and I have never had it this good. My children and I have never been this happy, and it's a testament to the fact that God's plans are always better than our dreams," Zumaya said. "When you put God before yourself and when you want to do God's will and not your own, then he's very quick to give you the resources that you need to get the job done."
Watch other video testimonies at Share Change.