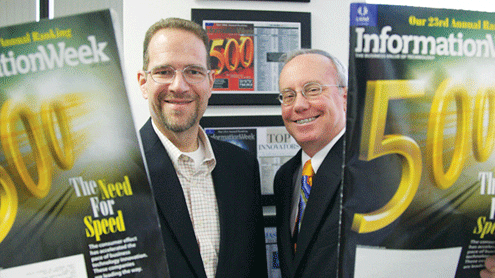 West's IT department a top innovator
Information Technology department recognized by InformationWeek 500
The Salvation Army USA Western Territory made this year's InformationWeek 500, an annual listing of the nation's most innovative users of business technology. This is the seventh consecutive year that the territory has received the honor.
The 2011 list was revealed Sept. 13 during an awards ceremony at the InformationWeek 500 Conference in Dana Point, Calif., attended by the territory's acting chief information officer, Tim Schaal.
"We are humbled that we have been recognized again," said Clarence White, chief information officer and Information Technology secretary. Every year we expect that this will be the last, but to have been listed in the 500 every year since 2005 is a tremendous accomplishment and an endorsement of our commitment to excellence. No other religious or nonprofit organization has even come close to our consistency in the field of Information Technology as measured by the InformationWeek 500."
PeopleCount
This year, the department received the honor because of a project envisioned by Territorial Commander Commissioner James Knaggs. The project—PeopleCount —will use social media to allow the territorial commander insight into the weekly happenings at corps around the territory, and will facilitate weekly feedback including a celebratory multimedia message to the territory from Knaggs. The project is expected to be fully launched by the end of 2011.
"For 23 years, the InformationWeek 500 has chronicled and honored the most innovative users of business technology," said InformationWeek Editor-In-Chief Rob Preston. "In this day and age, however, being innovative isn't enough. Companies and their IT organizations need to innovate faster than ever before to stay a step or two ahead of their customers, partners and competitors. This year's ranking placed special emphasis on those high-octane business technology innovators."
InformationWeek identifies and honors the nation's most innovative users of information technology with its annual 500 listing and also tracks the technology, strategies, investments and administrative practices of America's best-known companies. Top winners have included: The Vanguard Group, CME Group, Conway, National Semiconductor, Kimberly-Clark, Hilton Hotels and Unum. The InformationWeek 500 listings are unique among corporate rankings as they spotlight the power of innovation in information technology, rather than simply identifying the biggest IT spenders.
Additional details on the InformationWeek 500 can be found online at informationweek.com/iw500.