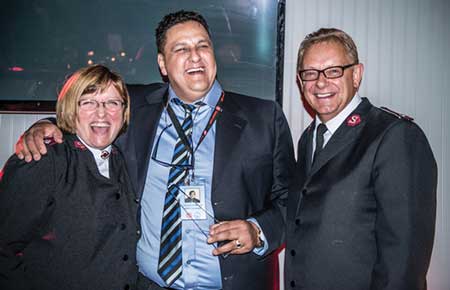 Vancouver Harbor Light turns 60
Anniversary gala raises money for programs.
The Salvation Army's Harbour Light in Vancouver marked its 60th year of service in Downtown Eastside—one of the city's oldest neighborhoods that is known as "Canada's poorest postal code"—with its third annual Hope in the Inner City: Soup Kitchen Gala fundraiser.
Donations from 150 guests totaled $190,000, which will benefit Harbour Light's Anchor of Hope, home to a daily drop-in center, 40-bed shelter, outreach team and community church.
"We are so grateful for the support our community has shown us over the last 60 years," Executive Director Major Judy Regamey said. "We have had 60 years of miracles at Harbour Light, and together we can continue to offer hope, shelter and comfort to those in need."
An Army band welcomed guests to the event, which included a silent auction and dinner at the Army's soup kitchen. Executive guest chef David Robertson, of The Dirty Apron Cooking School, prepared the food. As in the Army's soup kitchen, guests picked up their soup course in a cafeteria-style line.
Arthur Thompson, a past client of Harbour Light's drug treatment program who has been clean for eight years, received the Life Changer Award. The Army also presented the Corporate Partner Award to Accenture, a consulting firm, for its continued work, active support and service to the community.
—From Salvationist.ca