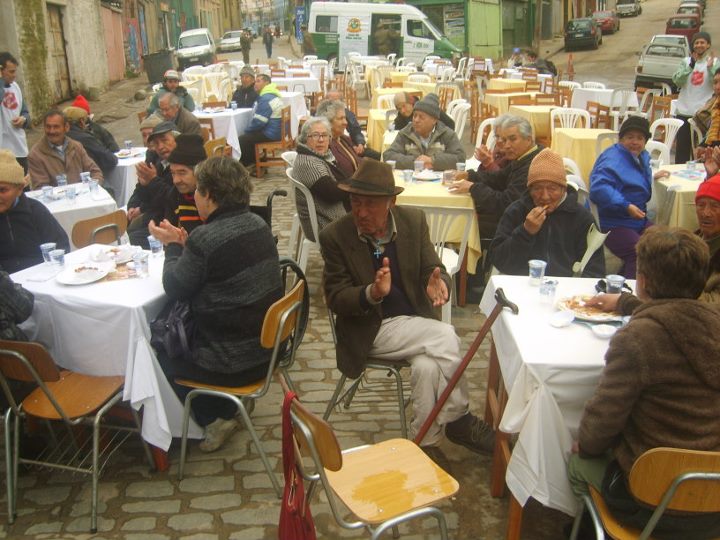 A home for the forgotten
Chilean shelter offers housing to homeless men in Valparaíso
[gss
gallery ids="18219,18220,18222,18223,18224″]
By Vivian Gatica – 
The Salvation Army has housed those facing homelessness in Valparaíso, Chile, since 1912. In recent years, however, it has become a home for older adult men in the area.
"The shelter has been in Valparaíso for over 100 years. It's part of the culture here in Valparaíso," said Major Eladio Martínez, the men's shelter director. "It's the only shelter in the region that houses people who have been living on the streets."
According to a 2011 survey of the homeless population in Chile by the nation's Department of Social Development, 979 individuals faced homelessness in Valparaíso, accounting for nearly 8 percent of Chile's homeless population. Of these individuals, 19.7 percent were age 60 and older.
"More than 80 percent of the people who ask us for help are older adults," Martínez said. "They don't have a place in their own families. They walk through the streets and their families forget about them; they make their lives here."
Hernan Infante, 68, arrived at the shelter over six months ago after living in friends' homes and renting rooms until he found himself homeless.
"I don't have any other place to live; I don't have words to describe how good this place is to me," Infante said. "Everyone here is different. They live different realities. There are some who greet me and others who don't, but I pray for them anyway."
The shelter currently provides permanent housing to 40 older adults and emergency overnight shelter to up to 70 people per night. Meals, showers, and basic medical care are also available. The staff ensures that residents take medications at the times instructed.
Martínez—who started his appointment at the shelter in February—said that the facility is well-recognized in the community, but maintaining it is challenging.
"When we arrived, they were going to shut this shelter down due to its poor physical condition, but within this time we have been able to fix it. We had to clean the shelter and make repairs," Martínez said. "Everything is now up to date, but there's still a lot left to do."
The Municipality of Valparaíso provides the shelter with 12 staff members, and many residents volunteer.
"We give them a bed and food, and they help by volunteering," Martínez said. "We are able to maintain the facility, even though we have limited resources."
By March 2015, he said he hopes to start a job skills program for men seeking emergency shelter.
"Many of them have only worked at the ports loading and unloading things, but they don't have skills for other areas," Martínez said. "We want to start skills workshops so they have other job alternatives."
Meanwhile, Martínez said they will keep working to improve the shelter.
"We want to be a dignified shelter—one that fulfills the needs of the poor, giving them a bed, a place for them to shower, and giving them a safe place where they can eat, talk and engage in activities," Martínez said.
For its residents, including Infante, the shelter does this and more.
"The Salvation Army is very special," Infante said. "I want to be able to help other people the same way."
Homelessness in Chile
Homeless Population: 12,255
Homeless Population By Gender:
→ Male: 10,185 (84 percent)
→ Female: 1,986 (6 percent)