USA Southern Territory launches Web-based Salvation Army news show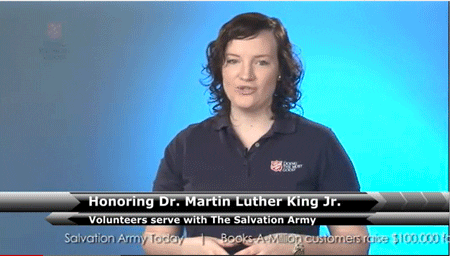 News station to present breaking news and information
The Salvation Army's U.S. Southern Territory has launched Salvation Army Today, a Web-based news show. The weekly program—put together by the territory's community relations and development department—offers breaking news and information concerning The Salvation Army's many ministries from around the world. A new episode is shared on YouTube every Thursday at youtube.com/salvationarmytoday.
In preparation for each broadcast, Salvation Army Today writers scour the Web and reach out to Salvationists in the U.S. and beyond for new and exciting material. The first two episodes included stories of crippling addiction and hard-fought recovery, the fight against family homelessness, cutting-edge education and job training programs and the poignant reunion of a father with his children. The shows include footage of Salvation Army stories that have been featured on local TV news stations.
With each broadcast, Salvation Army Today will bring more uplifting stories of lives changed. Anyone interested in sharing thoughts about the program or a potential story for broadcast is encouraged to contact Salvation Army Today at SAToday@uss.salvationarmy.org.
Report from Communications Bureau
Community Relations and Development Department
USA Southern Territory