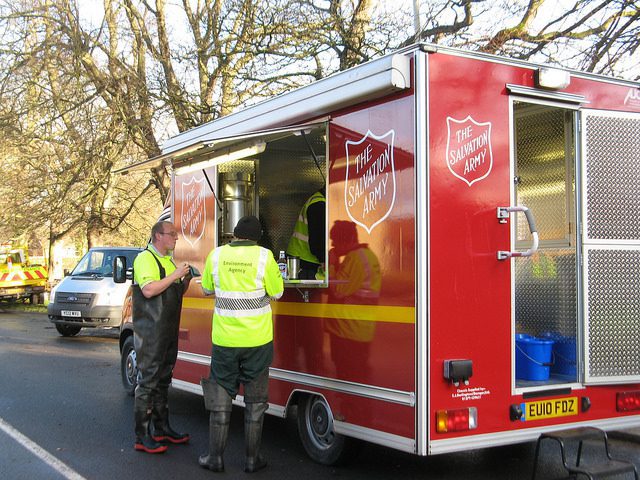 Salvation Army responds as UK flood crisis continues
The Salvation Army is assisting many hundreds of people affected by ongoing floods across the south of England. Persistent rain since before Christmas left large areas of farmland and countryside under several inches of water, with storm-force winds and torrential downpours making a bad situation worse. In some areas rural roads have become impassable, leaving some communities completely cut off. Many hundreds of people have been flooded out of their homes, with thousands left without power.
In the Somerset town of Bridgwater, in the west of England, The Salvation Army has been on hand to offer a listening ear to people affected by the severe weather. A place of safety and calm is available in two council-organized centers, and local residents have donated clothes and food.
The Salvation Army's Hadleigh Farm, working with Essex Young Farmers, sent animal feed and straw to farmers in the south-west.
A Salvation Army mobile canteen was deployed to Kenley Pumping Station at Purley in south London, which is in danger of being flooded. Volunteers will be on-site for the next few days providing support to emergency services and Croydon Citadel Corps is on standby should a rest center be required.
In the south-east of England, Kent County Council asked The Salvation Army to provide a shuttle service for isolated pensioners in the village of Kingston, where bus services are currently disrupted. Elsewhere in Kent a team went to Yalding and Bridge, near Canterbury, to provide much-needed food and hot drinks to emergency responders. A similar ministry to firefighters is being carried out by the London South-East support vehicle, usually based at Croydon but now serving around Maidenhead, to the west of London.
As communities around the River Thames continue to be badly hit, The Salvation Army has an emergency support center at its corps in Staines, Surrey, which is acting as a food collection point for victims of the floods. It is also a rest center and feeding station for emergency services and military personnel who are helping those affected. Staines Corps is working with Surrey County Council, with food being contributed by the Tesco supermarket chain.
Nearby Addlestone Corps was turned into a depot for food, toiletries and cleaning equipment. A team of volunteers is sorting through donations and delivering them to agencies and emergency services for distribution to people affected by the floods.
The officer in charge of Addlestone Corps, Major Ian Loxley, said, "We have about 1,000 homes affected here. We are starting to get people coming to us in need of food and clothing. We have also found that people living in mobile homes in the area have been particularly in need of our assistance."
Soldiers and friends from Reading Central Corps agreed to provide support at Whitley Fire Station in Reading, which is being used as a base for firefighters from around the country
"Our thoughts and prayers are with everyone affected by the floods," said National Emergency Response Coordinator Major Muriel McClenahan. "The Salvation Army's emergency response teams are working hard to support those whose homes have had to be evacuated or who are affected in other ways. As always, we'll continue to provide support to emergency services and those affected for as long as we're needed."
See a Google Map of The Salvation Army's response across England.