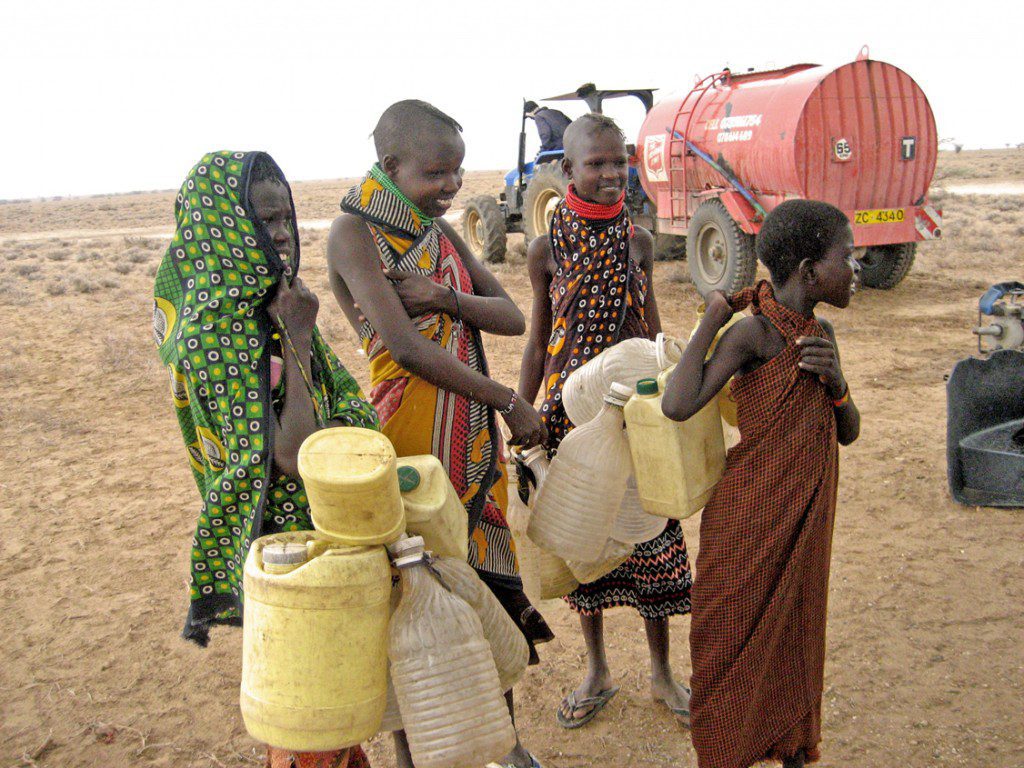 Kenya Salvation Army aids drought-stricken Turkana
Hundreds of thousands of people face starvation in Kenya's northwest region.
By Karen Gleason –
Up to 400,000 people face starvation in the drought-stricken Turkana region of northwest Kenya, where for the last five years the rainy season has not provided enough rain to maintain grazing lands for livestock. Turkana County is one of many regions in the Horn of Africa affected by persistent drought that ultimately puts more than 13 million people at risk of starvation.
The region is part of The Salvation Army's Kenya West Territory, led by Commissioners Kenneth and Jolene Hodder.
"Last week, we received reports from our district leaders in Turkana that the food situation there was getting worse by the day," Jolene Hodder wrote in a recent newsletter. "Drought has left all of the rivers and boreholes as dry as a bone, and people are starving. Animal carcasses litter the landscape, and families have resorted to killing cats and dogs in order to feed the children."
For the Turkana people, their pastoralist—or nomadic livestock herding—lifestyle can no longer sustain them. In order to survive, many turned to fishing in in Lake Turkana, Kenya's biggest lake and the sixth largest in Africa, where 50 years ago, fish were plentiful. Today, though, the lake is overfished and is one of many areas of armed conflict in Kenya, where tribes—some from neighboring Ethiopia—clash over limited resources.
The Salvation Army was determined to help, but found itself in a quandary. At first Commissioner Kenneth Hodder proposed sending funds, but learned that not much was left to buy in Turkana. Next he offered to send a truck filled with foodstuffs, but received warnings that bandits were highjacking food shipments.
The Army moved forward with the truck option, praying for a miracle to see the truck safely to its destination.
The truck driver hired to transport the goods insisted that The Salvation Army send one of its officers on the journey, and the truck got through all the barricades and arrived safely at the Army's Turkana Divisional Headquarters. From there, the Army will distribute supplies including 40 bags of maize, 15 bags of beans, 32 bags of rice and 376 liters of cooking oil.
"Both of us know that anything we send we only be a temporary fix," Jolene Hodder wrote, "but we just don't know what else to do."
For Jolene Hodder, the crisis is personal. "What makes this situation even harder for me is that I can put a face to those who are suffering," she wrote. "When I close my eyes, I can still see the beautiful young girls who danced for me when I visited Turkana last December. I think of the old woman who took my hand and wouldn't let go until I danced right along with her. The ladies adorned me with beautiful beads, and then despite intense heat, prepared one feast after another for Ken and me to enjoy. They were so kind, so loving, and so it's hard to hold back the tears."
[gss ids="6663,6672,6671,6670,6669,6668,6667,6666,6665,6664″]