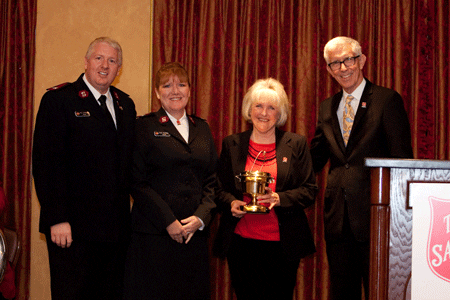 Three minutes = $277,655
5th annual L.A. Area Command Christmas Luncheon held at Millennium Biltmore Hotel
Two Los Angeles icons–the Millennium Biltmore Hotel and The Salvation Army–joined forces in celebrating service by conducting the 5th annual Los Angeles Area Command Christmas luncheon on Dec. 6. The 300 community leaders and supporters who attended raised $277,665 for the work of The Salvation Army in the LA area.
Master of Ceremonies, KNBC weather anchor Fritz Coleman, led the luncheon, which was supported by volunteer members of The Salvation Army Los Angeles Metro Advisory Board. During the program, board member Rick Dees shared his top 10 reasons to fill the kettle (https://tiny.cc/7373ow). The number one reason? "You'll love how it makes you feel!"
The luncheon's musical entertainment included a traditional brass ensemble, piano soloist David Dunford and a cello solo by 13-year-old Emma Lee, a student at the Army's Pioneer School of Music in Tustin. LaRon Armstead, a product of the Salvation Army South Los Angeles Youth Center and recent graduate of Loyola Marymount College, told how the Army saved him from a life of gangs and drugs and gave him purpose through basketball, service and God's love.
The main event was a three-minute competition between the tables to see who could raise the most money in a red kettle.  Advisory Board member Kathi Martin was this year's winner, raising $32,125.
Since 1923, the Millennium Biltmore Hotel has been an icon of downtown Los Angeles, known for its structural beauty and detail and for its celebrity guests and events. Not so well known is that during World War II, the Biltmore served as a military rest and recreation facility–the entire second floor was furnished with cots for military personnel on leave.
The Salvation Army is also a Los Angeles icon. Iconic not for celebrities and glamour, but for its 125 years of service to hurting people. Like the quiet service provided by the Biltmore during WWII, the Los Angeles Area Salvation Army serves hurting people through its 31 social service programs and four corps community centers.  Led by Majors Mike and Cindy Dickinson, the Salvation Army Los Angeles Command serves more than 61,000 people annually through its veterans' programs, child care centers, youth centers, emergency shelters, and transitional housing for many populations including families affected by HIV/AIDS.