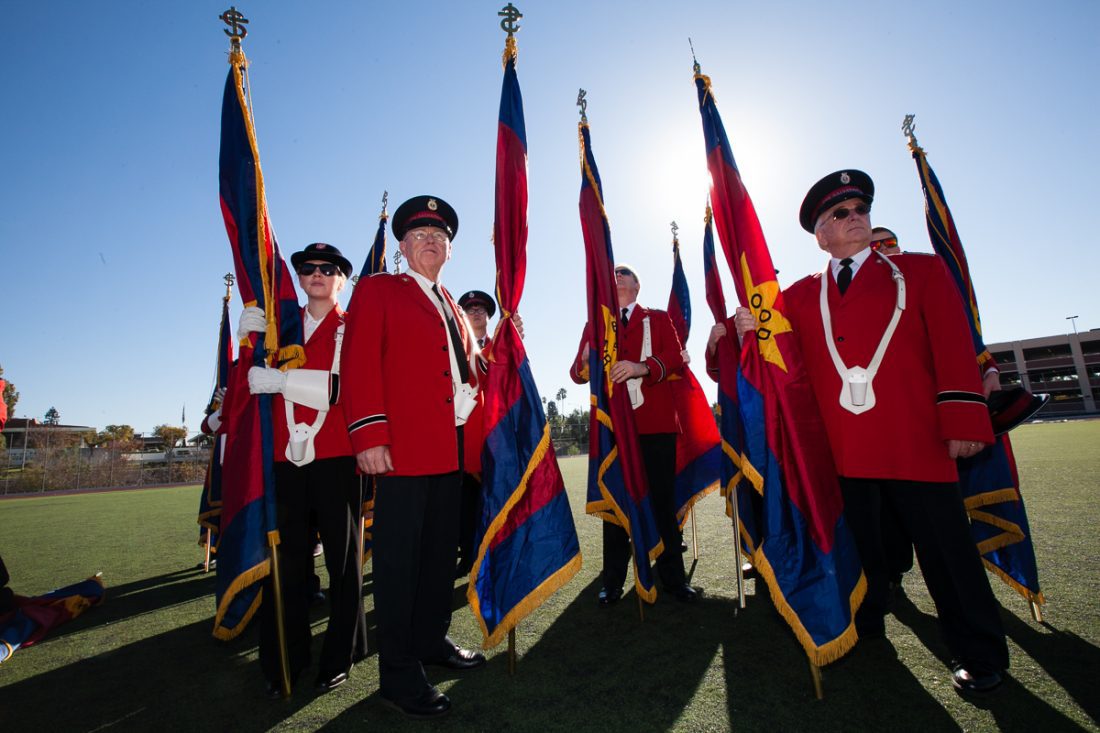 The Salvation Army's 2022 Rose Parade band marches with hope into the new year
While much of life has yet to reach to a pre-pandemic level of "normal," the return of the iconic Rose Parade—and The Salvation Army's marching band performance in it—brought a sense of warm familiarity that only the return of a tradition could.
On Jan. 1, the band marched down Pasadena's Colorado Boulevard, alternating between hymns "Amazing Grace" and "Blessed Assurance" as it has 100 times before. The group featured the Florida Divisional Band as this year's guest band, and was comprised of individuals from all other American territories. Unlike other bands, the Army's band is multigenerational, featuring players representing a range of ages.
"You don't realize how much you love something until it's gone…so it was weird last year," California South Music Ministries Director Kevin Larsson said. "It's just really great to be coming back in and doing this. It is so good to see all the young people getting together and getting to know each other."
While the Army didn't march in 2021, Larsson said they did help to fill the airtime for broadcasters by showcasing The Salvation Army around the world. It was a unique opportunity, but it wasn't the same.
While band members traditionally journey from around the world to participate, The Salvation Army Rose Parade Band is organized by the California South divisional music department, led by Larsson. This year, the event expanded to the national level after all four U.S. territories helped to fund the venture.
"The cost was rising before, so [participants] were kind of struggling to afford it, because a lot of these kids would have to pay so much money to come," Larsson said. "So now it's not such a burden on each individual, and so because of that, the numbers have jumped up a little bit more…This has been the largest contingent we've had from the USA group for quite a while."
Greg Payton, the Deputy Florida Divisional Bandmaster, has participated in the parade three times. For Payton, a cornet player, coming back is special.
"The opportunity is special to me because of my age. I would be one of the oldest ones in the band, recently retired from 35 years as an employee for The Salvation Army," he said. "Even though I retired from my vocational work, I didn't retire from what I like to do as a ministry opportunity."
Many, like Payton, consider the performance in the Rose Parade to be "the largest open air"—a fresh spin on Founder William Booth's outdoor ministry in London. The Salvation Army band can pass up to 25,000 people on the street during an average year of the Rose Parade, and millions more stream the parade or watch it on television.
While Payton is a repeat performer, he noted that many of those who traveled from Florida are new to the parade.
"It's extremely exciting," he said. "I can tell you that about 50 percent of us have been here at least once before. The other 50 percent it is their first time coming to the Rose Bowl festivities—and I found out from just asking those people, for many of them, it is their first time to California."
Once band members arrived in Southern California, they had a full agenda. The Florida Divisional Band participated in the Port of San Diego County Credit Union Holiday Bowl Parade. The group then went on to perform at Band Fest before joining the rest of The Salvation Army's band to rehearse.
They then performed a New Year's Eve concert at Tustin Ranch Corps. The group rounded out their tour with some ministry opportunities, including leading worship at the Pasadena (California) Tabernacle Corps.
When the group was not playing their instruments, they took in the snow capped mountains, the ocean and the sights and sounds of Hollywood. Payton said for some "their jaw dropped."
He even joked he was the "bringer of rain." This year, heavy rain from winter storms meant band members staying at Camp Mt. Crags had to evacuate Dec. 30.
"We evacuated everyone around 6 a.m.," California South Divisional Camp Director Marty Brown said. "The band members stayed at the College for Officer Training at Crestmont and hotels that night. They were all able to come back the next day—although they had to be shuttled in."
Taking the emergency route added time. This meant the traditional parade day 3:45 a.m. breakfast was moved to 3 a.m. Despite the adventure the weather created, the show went on. And for many, like Portland Tabernacle Corps Officer Captain Jillian O'Brien, a timbrelist, it was good to be back.
"I love being able to go down Colorado Boulevard and interact with the people watching the parade," she said. "Pre-COVID, if we had to stop…I would give my timbrel to kids on the parade route so that they could shake it…I think it gave them a way to interact with us as well."
O'Brien said next year, she's hoping to bring her daughter, too. That is, if she can pass her timbrel routine.
---
Do Good:
You've probably seen the red kettles and thrift stores, and while we're rightfully well known for both…The Salvation Army is so much more than red kettles and thrift stores. So who are we? What do we do? Where? Right this way for Salvation Army 101.
Caring Magazine is a magazine from The Salvation Army for people who care. People like you! Subscribe to the list and join 23k+ people who care. You'll get weekly inspiration sent right to your inbox in the Do Good Digest.
Learn more about The Salvation Army's history in the Rose Parade.