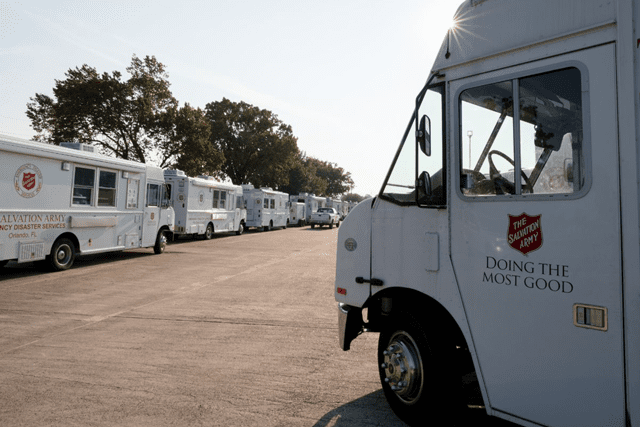 The Salvation Army preps for Irma
The now Category 5 hurricane is expected to sweep over the Eastern Caribbean Islands before reaching South Florida this weekend.
Although it's too early to project Hurricane Irma's impact on Florida, The Salvation Army isn't taking any chances.
The Salvation Army of Florida is pulling assets and personnel from the Hurricane Harvey deployment in Texas and staging them throughout the state, preparing to serve the communities impacted by the Irma, which is currently a Category 5.
The Salvation Army has 32 mobile kitchens on standby along with two field kitchens and various units to support personnel. The Salvation Army has more than 3,000 staff members and trained volunteers in Florida ready to offer a warm meal, bottled water, coffee, and counsel and prayer.
"The Salvation Army is fully committed to serving the residents of communities in the potential path of Hurricane Irma," said Major David Erickson, General Secretary for The Salvation Army Florida Division. "With its trained volunteers and staff throughout the United States, The Salvation Army can manage several disasters at a time."
Irma is expected to hit the Eastern Caribbean Islands on September 6, with winds reaching up to a 185 miles per hour. If Hurricane Irma does hit Florida, it is estimated that it will arrive on September 9.
Both Puerto Rico Gov. Ricardo Rosselló and Florida Gov. Rick Scott have declared a state of emergency for residents and ordered mandatory evacuation in some areas.
"Our prayers go with these communities as they prepare for this storm," Erickson said.